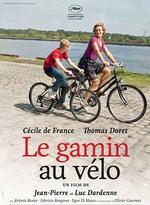 NEW WILMINGTON, Pa. - Westminster College's Departments of Modern Languages and English, in conjunction with the Jake Erhardt International Film Series, will show the film Le Gamin Au Vélo  (The Kid With a Bike) Tuesday, Feb. 5, at 7 p.m. in the Sebastian Mueller Theater of  the McKelvey Campus Center. The event is free to the public.
---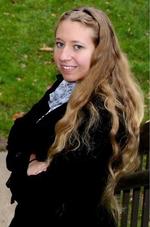 NEW WILMINGTON, Pa. - Westminster College senior Christine Whited will present her senior capstone recital at 1 p.m. Saturday, Dec. 7, in Wallace Memorial Chapel. The concert is free and open to the public.
---
NEW WILMINGTON, Pa.  --  Dr. Edith Humphrey, professor of new testament at Pittsburgh Theological Seminary, will conduct a day-long seminar Tuesday, March 16, at Mt. Nebo Presbyterian Church in Sewickley beginning at 9 a.m.
Humphrey will speak on "New Testament Spirituality."
This is the second in a series of continuing education events for 2003-2004 sponsored by the Westminster College Office of Church Relations made possible through a grant from Pitcairn-Crabbe Foundation of Pittsburgh.
For more information and reservations, contact Linda Wilson, secretary for the Westminster College Office of Church Relations, at (724) 946-7364 or e-mail lwilson@westminster.edu.  The deadline for reservations is Wednesday, March 10.
---
Senior music education majors Jamie N. Paoletta, and Brad Stewart will perform a joint recital Sunday, Dec. 5, at 2 p.m. in Wallace Memorial Chapel at Westminster College.
 Paoletta will play Lawson Lunde's "Sonata," Bernard Heiden's "Diversion," Alfred Reed's "Ballade," and Darius Milhaude's "Sacramouche Suite" on his saxophone.  Stewart, a trombonist, will perform Benedetto Marcello's "Sonata in F major," Donald H. White's "Sonata," Gabriel Faure's "En Preire," and John Boda's "Sonatina." 
 The students will be accompanied by Dr. Nancy Zipay DeSalvo, chair and assistant professor of music, and Paula Kubic on the piano.
 Paoletta is a son of Larry and Kerry Paoletta, Sharpsville, and a graduate of Sharpsville Area High School.
 Stewart is a son of Charles and Barbara Stewart, Armagh, and a graduate of United High School.
 The event is free and open to the public.  For more information, contact the Westminster College Department of Music at (724) 946-7270.
---
Peggy Peterson, a 1980 Westminster College graduate, will speak about her career in Washington, D.C. Monday, Sept. 30, at 11:30 a.m. at Beeghly Theater.
Peterson is the director of communications for Congressman Michael Oxley. She works with the Finance Committee, and has worked with the congressman on the Sarbanes-Oxley Act following the recent corporate accounting scandals.
"I think this will be an outstanding opportunity for everyone to 'hear it like it is' from someone who has insight into the workings of Congress," said Jackie Meade, director of the Westminster College Career Center.
The event is free and open to the public. Contact Meade at (724) 946-7343 or e-mail meadelb@westminster.edu for more information.
---
More than 335 students are expected to earn diplomas Saturday, May 20, during the 152nd annual Westminster College commencement ceremonies. The 2005-2006 academic year will conclude with a baccalaureate service at 10:30 a.m. in Orr Auditorium and commencement at 2:30 p.m. on the Senior Terrace of Old Main.
The Rev. Daniel B. Merry, associate pastor to Pittsburgh Presbytery and 1977 Westminster graduate, will deliver the baccalaureate sermon, "Is God Fair?" Merry is also the staff person to the Committee on Preparation for Ministry, Administrative Commission for Transformation and the Malawi Partnership Ministry Team.
After receiving his degree from Westminster, Merry went on to Union Theological Seminary in Richmond, Va., where he served as student pastor of the Midway Presbyterian Church in Maxton, N.C. In 1981, he went to serve as pastor of the Second Presbyterian Church in Pittston, and in 1987 he accepted the call to the John McMillan Presbyterian Church in Bethel Park, where he remained for 13 years with a congregation that grew from 85 to almost 400. Between August 2004 and August 2005, Merry and his family served the Synod of Blantyre in Malawi, Africa.
Charles R. Burke, Westminster College Trustee Emeritus and Chairman Emeritus of the Grable Foundation, will deliver the commencement address, "Thoughts for a Lifetime," after receiving an honorary doctor of public service degree from Westminster.
Burke received his undergraduate degree from Princeton University and his law degree from the University of Virginia Law School. He was an attorney with Reed, Smith, Shaw & McClay, a staff attorney with Westinghouse Electric Corporation, a partner with McCann, Garland, Ridall & Burke, and a partner with SCC Investment Advisors, all located in Pittsburgh. He served on the boards of Rubbermaid, Inc., the Federal Home Loan Bank of Pittsburgh, and several other smaller corporations.
Burke continues to serve area charitable associations such as The Grable Foundation and The United Way of Allegheny County. He has previously served the Third Presbyterian Church, Eye and Ear Hospital, Better Business Bureau of Western Pennsylvania, Inc., Consumer Credit Counseling Services of Western Pennsylvania, and the Executive Service Corps of Western Pennsylvania.
The class of 2006 has chosen Nawal Rajeh to give the senior address. Rajeh, a senior political science and individual interdisciplinary major, is a graduate of Austintown-Fitch High School and a daughter of Ghassan and Soumaya Rajeh.
In case of rain, ceremonies will be held at the Memorial Field House. Contact the Academic Dean's Office at (724) 946-7122 for more information.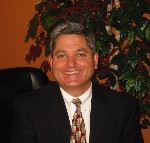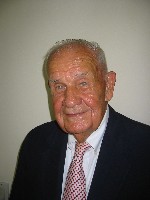 ---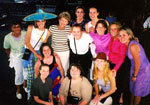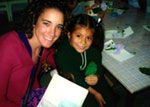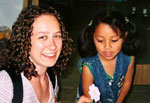 Nine Westminster College elementary education majors interned in Mexico City schools last May.
---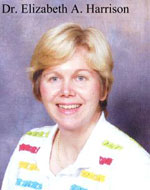 Dr. Elizabeth A. Harrison, assistant professor of music and Westminster College organist, recently presented a paper at the Gotenborg International Organ Academy's (GoArt's) bi-annual conference in Gothenburg, Sweden.
---
The Holcad, Westminster College's student-run newspaper, has been awarded first place by the American Scholastic Press Association.
The association, which serves more than 2,000 schools, conducts this competition annually and scores are based on content coverage, page design, general plan, art advertising and illustrations, editing, and creativity.
---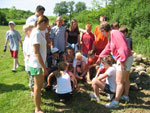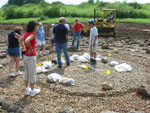 Anyone questioning community spirit and the outpouring of love would have benefited from an amazing accomplishment on Saturday, the 15th of July. By estimate, over 50 people moved over 100 tons of gravel and stones into a circular path that is called a labyrinth. This project, over 10 months in the planning, is a memorial to Sandra May Edmiston whose death on August 1, 2005 shocked the New Wilmington community and started an avalanche of love by those who knew her and many who only learned of her through word of mouth.
---
Displaying 821-830 of 5155 total records