Emergency Contacts
On-Campus: 7777
Off-Campus & Cell Phones:
(724) 946-7777
Non-Emergency Contacts
Public Safety Office:
(724) 946-7126
On Campus: 7126
Director of Public Safety: Phillip R. Lenz
(724) 946-6216
On Campus: 6216
email
Related Documents
Title IX Information
CLERY Report
Fire Safety Report
Hazing Report
Emergency Management Plan
Clery Bill of Rights Printable Resource
About Us
---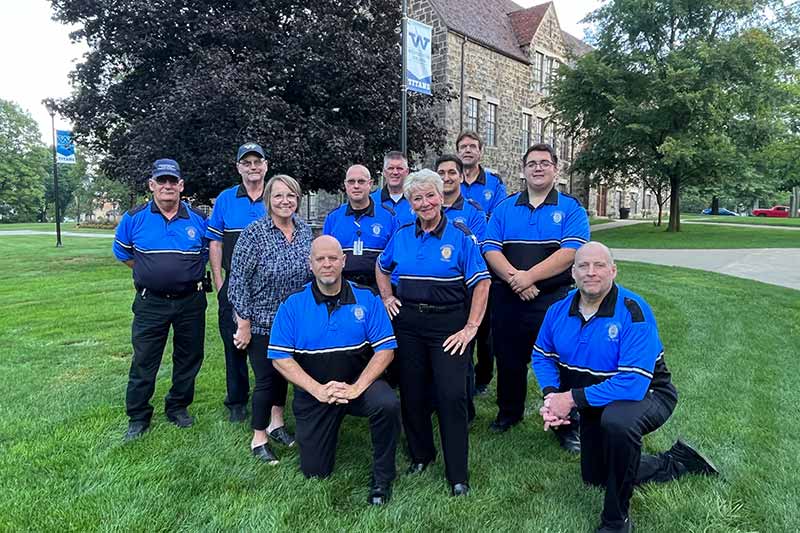 The Westminster College Department of Public Safety provides safety and security services to the campus community 24/7/365. We are dedicated to providing a safe and healthy campus for the entire community. Some of the services provided include campus wide patrol, escort services, transportation services for sick or injured persons, safety inspections, enforcement of college rules and regulations, security for special events (commencements, athletic events, celebrity series, etc.), campus lock down, traffic control, administration of the College vehicle registration and parking program, and investigation of various criminal and traffic incidents on campus. The Public Safety Department is also the clearing point for "lost and found" property.
The Public Safety Department is made up of sixteen members and a director. The majority of the officers are retired from public emergency service agencies, primarily state and municipal police. Public Safety officers have a wide range of training and experience in resolving safety and security issues and emergency situations. All officers are certified in First Aid, CPR & how to use the AED. We believe safety is a shared responsibility among all students, faculty, staff and guests to our campus.
The Public Safety Department is located in McKelvey Campus Center in room 252.
College Crimes and Sexual Assault: Staying Safe on Campus
---
This guide provides students and their concerned parents with critical information, important statistics, and expert guidance on the subject of college campus safety and sexual assault, awareness, and emergency response.