Matching Gift
and
Volunteer Grant
information provided by

Career Networking
---
Professional Development Center
Located on the 2nd floor of McKelvey Campus Center, the Westminster Professional Development Center offers many valuable services to students, alumni, and employers.
LinkedIn
The Westminster PA College LinkedIn group provides an exclusive opportunity for members of the Westminster community to network and support one another. The Office of Alumni Relations and Professional Development Center work together to support Westminster students, alumni and friends as they grow their careers.
Specialty License Plates
---
If you are interested in ordering a Westminster license plate, please contact the Alumni Office at alumni@westminster.edu, or download the Application Form.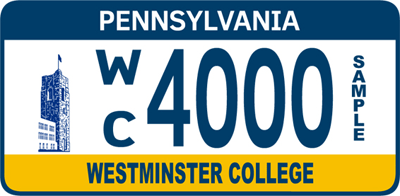 Other Services
---
Contact Wendy Davis at daviswl@westminster.edu for more information.