Accomplished Westminster Alumni
A tribute to Westminster's liberal arts tradition alumni are accomplished in, and contribute to, a wide range of fields including; education, research science, medicine, politics, writing, entrepreneurial enterprise, mission, mountain climbing and business. Our most prestigious recognition awarded to accomplished alumni, the Westminster College Alumni Citation, recognizes professional accomplishment, service to Westminster and community service. Accomplishments of graduates of 15 years or less are recognized through the presentation of the Outstanding Young Alumni Award. Added in 2016, the Rising Titan Award recognizes a junior or senior for their outstanding leadership and potential for impact on the alumni community after they graduate.
2017 Recipients
---
Alumni Citation Award Winners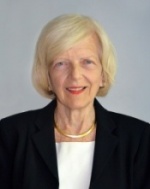 Wilma Crankshaw Donaldson is a 1964 graduate with a degree in education, who went on to earn a master's degree from Fairfield (Conn.) University and teach 35 years in Weston, Conn. During her tenure she wrote the system's first elementary curriculum guide and served on many curriculum/administrative committees. She and two colleagues presented at the first Soviet-American Conference of Science Teachers in Moscow. A NASA-Newest awardee, Wilma worked with NASA Langley Air Force Base personnel on a space/flight educational curriculum. She has received honors as Weston Teacher of the Year, semifinalist for Connecticut Teacher of the Year, Presidential Award nominee and Distinguished Classroom Teacher.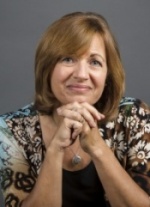 The Rev. Mary Lynn Tobin graduated in 1976 with a degree in religion and psychology and served on the chapel staff. She continued her education at San Francisco Theological Seminary during a time when female ministers were rare, earning the seminary's Pastoral Ministry Prize granted by faculty at graduation. She served as associate pastor at First Presbyterian Church in Atlanta (the membership of which equaled the population of her native New Wilmington) before being called to Davis (Calif.) Community Church. In 2013 Mary Lynn followed a new call as a leadership coach, listening to and counseling with clients who are primarily new pastors. She and her husband, David Campbell '78, live in Davis.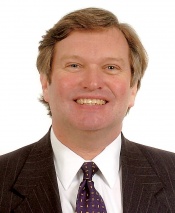 Daniel J. Vogler is a 1981 graduate who earned a degree in political science and is a member of Theta Chi fraternity. His career includes 14 years as director of governmental a airs and registered lobbyist for New Castle- based Pennsylvania Power Company; serving as an elected supervisor in Neshannock Township; and, since 2003, elected commissioner in Lawrence County. During three of his four terms as commissioner he served as board chairman and chairs Lawrence County's retirement (pension) board, salary board and board of elections. Dan has served on Lawrence County Tourist Promotion Agency's board of directors and Westminster's Alumni Council. A member of First Presbyterian Church in New Castle, he is the father of Jonathan, Lyndsey '13 and Christopher.
Young Alumni Award Winner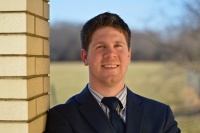 David M. Bauer, a 2010 graduate who earned a degree in political science, is a co-founder and partner in the general practice law rm of Swisher, Bauer, Luciano PLLC and founder of Beacon Estate Planning & Elder Law. Following graduation he served an internship for the congressional campaign of current congressman Mike Kelly. He decided that, rather than pursue politics, he would follow his lifelong dream of becoming an attorney. While at Duquesne he co-founded the Sole Practitioner Society to assist students who wanted to open their own solo practices. David graduated from law school in 2014, passed the bar exam, married MaryBeth Memo '10 two days later and established his own general practice.
Rising Titan Award Winner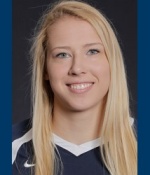 Alexa Yoho, a senior environmental science major from Pittsburgh, is a four-year starter for Westminster's volleyball team, earning second team all-conference recognition as a rst-year and rst team all-conference as a sophomore and junior. On campus she is president of Pre-Veterinary Society, Green Party, Sierra Student Coalition and the volleyball club; and a member of Beta Beta Beta biology honors society, the Tiny House team, as well as other campus organizations. Lexie was a member of the 2017 Experience Alaska team that traveled to Alaska to learn about impacts on the environment and to complete mission work.