Dr. Kathy Brittain Richardson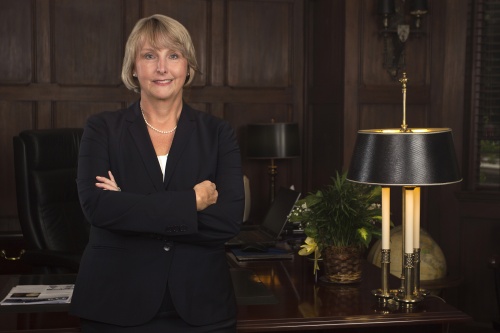 Dr. Kathy Brittain Richardson became Westminster College's 15th president on July 1, 2016.
Before coming to Westminster College, Richardson was provost and professor of communication at Berry College, Mt. Berry, Georgia. Richardson is an accomplished academic and impactful teacher, receiving many accolades including top faculty teaching, scholarship and leadership awards.
A highly regarded scholar, Richardson co-authored Media Ethics: Cases and Moral Reasoning, which is now in its 11th edition, and Applied Public Relations: Cases in Stakeholder Management, in its 3rd edition. Richardson served as editor of Journalism and Communication Monographs and was co-editor of the National Forensic Journal.
She is a member of the editorial board of Mass Communication & Society and the Journal of Mass Media Ethics. Richardson has published journal articles and book chapters in media ethics, product promotion, visual imagery, communication pedagogy and student-press regulation. In 2014, she was recognized as the Alumna Scholar of the Year by the Grady College of Journalism and Mass Communication of the University of Georgia.
Richardson is a member of the Association for Education in Journalism and Mass Communication and has served as head of the Mass Communication and Society Division. In 2012, she received the Professor of the Year award from the Small Programs Division of AEJMC.
She is serving as the 2021-22 Chair of the Association of Presbyterian Colleges and Universities and is a member of the Board of Directors of the Association of Independent Colleges and Universities of Pennsylvania. A member of the Board of Directors of the Lawrence County Regional Chamber of Commerce, she is a member of the Executive Committee of the Forward Lawrence initiative.
Dr. Richardson earned a Bachelor of Arts in Communication and Religion/Philosophy, summa cum laude, from Shorter College, a master's degree in journalism and a doctorate in mass communication from the Grady College of Journalism and Mass Communication at the University of Georgia. She completed additional graduate coursework in communication at the University of Oklahoma.
She is married to Dr. Randy Richardson and has two adult stepchildren, Ashton and Lauren.
A Letter from President Richardson, Spring/Summer 2021
---
Dear Friends of Westminster College:
"Every new beginning comes from some other beginning's end." — Seneca
As we complete the 2020-2021 academic year, we have so much to celebrate and to be proud of, even as we acknowledge the challenges that the pandemic posed. Being masked and distanced did not prevent our students from demonstrating their intellect, creativity and resilience in classrooms, performances, competitions and organizations throughout the year. The April 2021 URAC, the annual celebration of undergraduate research and the arts, sparkled with great presentations and performances. The Student Government Association implemented its new strategic plan with updated bylaws and procedures, and the Campus Programming Council provided activities for students that were engaging and safe. Titans from all 22 varsity teams demonstrated excellence in sports from baseball to track and field, winning six team championships and a host of individual awards in diving and track and field.
Similarly, faculty and staff offered their best while using technology in new and different ways to guide learning, provide support, participate in conferences and professional development, and conduct College governance. Our alumni participated in a variety of virtual events, from Homecoming to trivia nights. The College's strong efforts at stabilizing the budget resulted in it being recognized as a Top 10 Achiever by Forbes, and key construction projects resulted in the completion of the addition to the Hoyt Science Center, three new athletic fields, and an enhanced technology infrastructure. Add to that two positive accreditation virtual visits, and you'll understand why we end the year admittedly weary, but that weariness is tempered with pride in all that was completed. The "We in Westminster" has sustained our community, and we were able to thrive, despite the unexpected challenge.
And now, it's time for a new beginning. We will host some day camps on campus during the summer and a commuter New Wilmington Mission Conference in July. In late August, we will welcome the Class of 2025 and our returning students to campus, and we anticipate a return to a more normal Westminster experience. We look forward to the joy of dedicating the new Hoyt Science Center addition and the Huey Heritage Center in Memorial Field House—and a resumption of fall athletics, another great Professional Network Symposium, and more traditional Homecoming activities.
So—with gratitude and pride for what has been and with faith and hope for what comes next, we look to begin the new academic year as Titans together and to celebrating the College's 170th birthday in January 2022. As always, it's a great time to be a Titan!
Gratefully,
Dr. Kathy B. Richardson
President of Westminster College