Dr. Kathy Brittain Richardson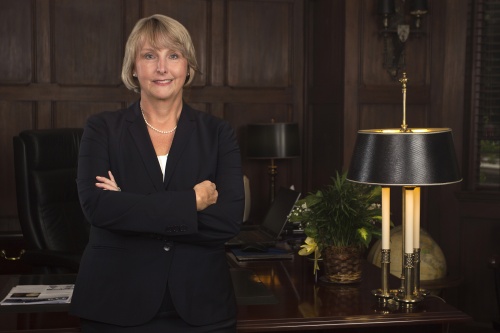 Dr. Kathy Brittain Richardson became Westminster College's 15th president on July 1, 2016.
Before coming to Westminster College, Richardson was provost and professor of communication at Berry College, Mt. Berry, Georgia. She served as the chief academic officer, which included responsibility for working with six deans to coordinate management of the four academic schools and division of nursing and providing oversight to some 250 faculty and academic staff.
Previous administrative responsibilities included oversight of academic advising and the registrar's office, library, institutional research, enrollment management, faculty research and sponsored programs, academic technology, honors, international programs, and the offices of first-year experience and academic support.
Richardson is also an accomplished academic and impactful teacher, receiving many accolades including top faculty teaching, scholarship and leadership awards.
A highly regarded scholar, Richardson co-authored Media Ethics: Cases and Moral Reasoning, which is soon to be published in its 10th edition, and Applied Public Relations: Cases in Stakeholder Management, now in its 3rd edition. Richardson has been editor of Journalism and Communication Monographs and was co-editor of the National Forensic Journal.
She is a member of the editorial board of Mass Communication & Society and the Journal of Mass Media Ethics. Richardson has published journal articles and book chapters in media ethics, product promotion, visual imagery, communication pedagogy and student-press regulation. In 2014, she was recognized as the Alumna Scholar of the Year by the Grady College of Journalism and Mass Communication of the University of Georgia.
Richardson is an active member of the Association for Education in Journalism and Mass Communication and has served as head of the Mass Communication and Society Division. In 2012, she received the Professor of the Year award from the Small Programs Division of AEJMC.
Dr. Richardson earned a Bachelor of Arts in Communication and Religion/Philosophy, summa cum laude, from Shorter College, a master's degree in journalism and a doctorate in mass communication from the Grady College of Journalism and Mass Communication at the University of Georgia. She completed additional graduate coursework in communication at the University of Oklahoma.
She is married to Dr. Randy Richardson and has two adult stepchildren, Ashton and Lauren.
A Letter from President Richardson, Fall 2017
---
Dear Friends of Westminster College:
The world is finally waking up to what Titans have known for over a century and a half: A deep grounding in the humanities, arts, and social and natural sciences equips students to communicate, empathize, problem solve and innovate in ways that are increasingly valuable in the rapidly changing economies of the 21st Century. As the Wall St. Journal and Forbes have recently described, business leaders across fields, including technology, have realized that this type of knowledge and "soft" skills foster creativity, innovation and collaboration in ways that support bottom-line value and enhanced employee satisfaction.
For 166 years, Westminster has remained committed to providing that type of education, a comprehensive liberal arts education in a small, residential college setting. It is a vision of education born thousands of years ago in ancient Greece, one reaffirmed in 1852 at the founding of Westminster College. The new college would offer the "classical" curriculum (a bachelor of arts degree), but also an additional curriculum that would prepare students for careers in education (a certificate program that soon became a bachelor of science degree)—a broad, thorough education with clear opportunities for application. This vision for education was not only broad in terms of curriculum, however—it was also radically broad in terms of access. The new Westminster College would not only be open to men, but would also offer access to college without discrimination "on account of Color, Caste or Sex"—arguably the first college in the country to provide such democratic access.
That founding vision continues to resonate here today. As we work together this year to craft a strategic plan for the college, we continue to affirm this vision for a Westminster education: an inclusive education that is richly collaborative and experiential and one that challenges students to engage in critical thought and community service—and an historic mission to graduate students with the competencies, characteristics and commitments that characterize humankind at its best. Humankind at its best: empathetic, ethical, educated, empowered—students who graduate ready for lives of meaning, integrity and service.
These are exciting days for Westminster College. With new leadership in Academic Affairs and Student Affairs, facility renovation and expansion projects under way, and students eagerly engaging in the full life of the campus, the community that comprises the "We in Westminster" is energized and focused. It is a good time to be a Titan!
Sincerely,
Kathy B. Richardson
President