Dr. Kathy Brittain Richardson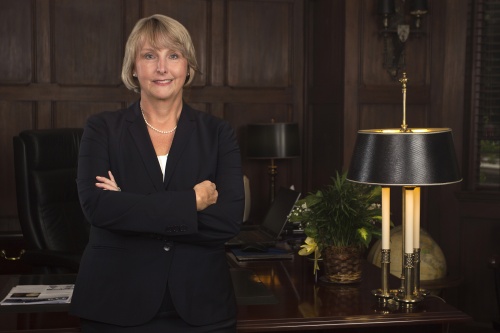 Dr. Kathy Brittain Richardson became Westminster College's 15th president on July 1, 2016.
Before coming to Westminster College, Richardson was provost and professor of communication at Berry College, Mt. Berry, Georgia. She served as the chief academic officer, which included responsibility for working with six deans to coordinate management of the four academic schools and division of nursing and providing oversight to some 250 faculty and academic staff.
Previous administrative responsibilities included oversight of academic advising and the registrar's office, library, institutional research, enrollment management, faculty research and sponsored programs, academic technology, honors, international programs, and the offices of first-year experience and academic support.
Richardson is also an accomplished academic and impactful teacher, receiving many accolades including top faculty teaching, scholarship and leadership awards.
A highly regarded scholar, Richardson co-authored Media Ethics: Cases and Moral Reasoning, which is soon to be published in its 10th edition, and Applied Public Relations: Cases in Stakeholder Management, now in its 3rd edition. Richardson has been editor of Journalism and Communication Monographs and was co-editor of the National Forensic Journal.
She is a member of the editorial board of Mass Communication & Society and the Journal of Mass Media Ethics. Richardson has published journal articles and book chapters in media ethics, product promotion, visual imagery, communication pedagogy and student-press regulation. In 2014, she was recognized as the Alumna Scholar of the Year by the Grady College of Journalism and Mass Communication of the University of Georgia.
Richardson is an active member of the Association for Education in Journalism and Mass Communication and has served as head of the Mass Communication and Society Division. In 2012, she received the Professor of the Year award from the Small Programs Division of AEJMC.
Dr. Richardson earned a Bachelor of Arts in Communication and Religion/Philosophy, summa cum laude, from Shorter College, a master's degree in journalism and a doctorate in mass communication from the Grady College of Journalism and Mass Communication at the University of Georgia. She completed additional graduate coursework in communication at the University of Oklahoma.
She is married to Dr. Randy Richardson and has two adult stepchildren, Ashton and Lauren.
A Letter from President Richardson, Winter 2020
---
Dear Friends of Westminster College:
Counting the days—until a holiday, a wedding, a vacation. We sometimes celebrate the counting by placing large "X's" on a posted calendar or by opening windows on an Advent calendar. While my mother always cautioned me against "wishing my life away," I confess that this semester has been marked by an unusual count. "It's Week 4, Day 2," I announced to the Leadership Team. "It's Week 10, Day 7," I told the Board of Trustees. Each day in which our students, faculty and staff have worked together to maintain a safe residential campus with in-person teaching and learning has seemed worthy of celebration. I have been filled with pride and gratitude for the commitment of our campus community to such an important goal—to complete the academic year with students safely on campus.
Our term began two weeks earlier than normal, as was true for many colleges and universities in this region, designed to allow for students to complete final exams before Thanksgiving so they would not have to come back to campus after that break. Spring classes are set to resume on Jan. 19, and the spring term will end one week earlier than usual as no spring break is planned—again, so that students will not have to return to campus following extensive travels. The weeks without a major break are challenging and tiring, but maintaining the safety of the campus so that students can live, study, perform and compete during the term takes high priority.
We've also begun counting another important sequence of days: the second "1,000 days" of the College's strategic plan. The first sequence, 2017-2020, offered opportunities for us to strengthen the ways in which we recruit and retain students and provide an engaging educational experience for them. We focused on ways to improve our campus facilities and technologies and sought to stabilize the College's budget while engaging alumni and friends in financial support of the College. We've made significant progress in each of these areas, as you will discover as you read through this issue.
But we now look ahead, with a new 1,000 day plan for 2020-2023 endorsed by the Board of Trustees at its October meeting. We are building on the success of the new master's in business administration and in clinical mental health counseling and expansion of our undergraduate recruitment and retention efforts to help advance progress toward an undergraduate and graduate student enrollment of 1,400. The recently awarded federal TRIO grant will provide funds to help support retention among key groups of students, including those who are the first in their families to attend college. Completing the final phase of the Hoyt Center renovation will provide space for new curricular development in our outstanding STEM fields, and renovations of two additional residence halls, Ferguson and Eichenauer, will improve student experiences on campus. The next Titan Corridor project will provide appropriate locker and office facilities for the lacrosse, soccer and tennis teams.
This year, accreditation reviews from the Middle States Commission on Higher Education and the Commission on Collegiate Nursing Education will demonstrate our compliance with professional standards. Our innovative faculty continue to explore new major programs while working with colleagues in Student Affairs to provide challenging co-curricular and extracurricular experiences for students, which will include expanded travel programs when it is safe for domestic and international travel to resume. Building on the College's inclusive founding, a faculty, staff and student task force is already at work developing a renewed diversity, equity and inclusion plan that will be implemented in the coming months.
Finally, we continue to focus on replenishing the resources required to fulfill the College's mission to graduate students with the "competencies, commitments and characteristics that have distinguished human beings at their best." Those are qualities that can be counted on to promote lives of meaning, integrity, leadership and service to others, which is the vision of Westminster.
So, another countdown is under way as we mark progress toward the College's strategic goals. Whether it is the days of the term or the days designated by planning, each day in which Titans work together to promote the wellbeing of our students, our community and the College marks an important day of progress. Even in a most unusual time, every day counts because every Titan counts. Together, we remain Titan Strong.
Gratefully,
Dr. Kathy B. Richardson
A Special Message from President Richardson
---
June, 2020
We at Westminster are mindful of the grief, fear and anger felt by our Black students and other members of our community in recent days. We also support those who are calling for justice and accountability. Black Lives Matter. No one should be subject to police brutality and racial injustice.
Our institution was founded with a vision for inclusion and acceptance, and we seek each day to live out that vision. The College motto reminds us of the importance of "sealing the law"—keeping the law of love toward God and all humankind as a part of our everyday actions. As a society, an institution and as individuals, we have much to achieve if we are to demonstrate that law of love daily. Growing up in Georgia when I did, I saw firsthand the inequities and mistreatment afforded Black residents in my town and state. Yet I also saw the progress achieved when righteous men and women acted courageously to spark the changes that were so desperately needed.
As a campus community, we are committed to such a process. We have just completed a Campus Climate Survey to help us better understand the experiences of students, staff and faculty on our campus, and this fall we will join with Associate Dean of Students Candace Okello who will guide our work on campus inclusion and diversity. During the coming year, we will resume our "Civil Dialogues" on campus, frank times for listening and learning together that will be led by our Student Government Association, and our entering first-year students will again read Just Mercy by Brian Stevenson as their first college assignment.
We have sent messages of support to our students this week and will continue to do so throughout the summer. Vice President Vance has offered additional resources to our students to help promote better understanding and response to the need for equity and respect. I will be working through those materials this summer as I acknowledge how much I need to learn and to grow.
As we live and work together on our campus, let us remain committed to seeking justice, loving mercy and walking humbly before God as the prophet Micah charged us to so many centuries ago. The work will not be easy, but it is critically important for all of us to engage in as members of the "We in Westminster" community. Together, and only together, we are Titan strong.
Dr. Kathy B. Richardson