Dr. Kathy Brittain Richardson
---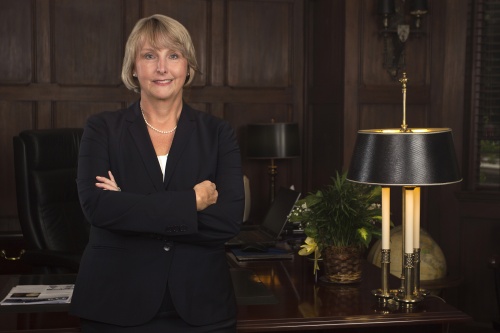 Dr. Kathy Brittain Richardson became Westminster College's 15th president on July 1, 2016. Her tenure began with leading faculty and through the collaborative development of a student-focused strategic plan. This plan has grounded many of Westminster's achievements during the past six years. The College has completed more than $40 million in campus improvements, including the renovation and expansion of the Hoyt Science Center; the addition of three new athletic fields; renovations in the Memorial Field House and Wallace Memorial Chapel; significant upgrades throughout several residence halls; and replacement of the campus wifi network. A Cultural Center opened in fall 2022 as the College continues to implement its strategic plan for diversity and equity, and the federally-funded TRIO Student Support Services program, established during Dr. Richardson's presidency, lends additional assistance to first-generation students and those with other equity markers. New degree programs in nursing, environmental studies, marketing and professional sales, music technology, sports management, and a master of business administration have been added to the curriculum. Westminster's accreditation was reaffirmed under Dr. Richardson's leadership, and the nursing program also gained accreditation.
The theme of Dr. Richardson's presidency has focused on the "We in Westminster," emphasizing collaborative networks and the collective responsibility that arises out of a college education. To this end, Dr. Richardson has been an important partner across the Pittsburgh region and Commonwealth. She serves on and has provided leadership for the Lawrence County Regional Chamber, the Economic Development Corporation of New Wilmington, the Presidents Athletic Conference, the Association of Presbyterian Colleges and Universities, and the Association of Independent Colleges and Universities of Pennsylvania. She was recognized in City and State Pennsylvania magazine's 2022 Higher Education Power 100.
Before coming to Westminster College, Richardson was provost and professor of communication at Berry College, Mt. Berry. A highly regarded scholar, Richardson co-authored Media Ethics: Cases and Moral Reasoning, which is now in its 11th edition, and Applied Public Relations: Cases in Stakeholder Management, in its 3rd edition. Richardson served as editor of Journalism and Communication Monographs and was co-editor of the National Forensic Journal.
She was a member of the editorial board of Mass Communication & Society and the Journal of Mass Media Ethics. In 2014, she was recognized as the Alumna Scholar of the Year by the Grady College of Journalism and Mass Communication of the University of Georgia. In 2012, she received the Professor of the Year award from the Small Programs Division of the Association for Education in Journalism and Mass Communication.
Dr. Richardson earned a Bachelor of Arts in Communication and Religion/Philosophy, summa cum laude, from Shorter College, a master's degree in journalism and a doctorate in mass communication from the Grady College of Journalism and Mass Communication at the University of Georgia. She completed additional graduate coursework in communication at the University of Oklahoma.
She is married to Dr. Randy Richardson and has two adult stepchildren, Ashton and Lauren.
A Letter from President Richardson, June 2023
---
Dear Friends of Westminster College,
Among the many beautiful compositions the Concert Choir performed during its spring concert on May 7 was "You Do Not Walk Alone" by Elaine Hagenberg. Its lyrics included the descriptive line: "May you always remember when the shadows fall, you do not walk alone."
The anthem reminded me of the legend I share with new students at Opening Convocation each fall—the legend that no student should walk across Weisel Senior Terrace unless accompanied by a faculty member or they stand in danger of not graduating. Only at Commencement should a senior walk unaccompanied. While I assure the students that the story is only a myth, it does describe a great Westminster truth: Titans need not walk alone. Each Westminster student, regardless of major or interest, has a faculty advisor, other caring faculty, staff members in Student and Academic Services, administrators, coaches, work supervisors, peer mentors or tutors who walk alongside them, providing encouragement, advice, challenge and support.
The network of support has been very apparent this year as staff across the College collaborated to assist students as they pursue their academic and personal goals. For example, student services, academics and athletics partnered to provide first year students on six fall varsity teams with opportunities for individual and group support related to academic, personal and athletic goal setting as they began their coursework and competitions. From the Food Pantry to the Career Closet to the Resource Lending Library, students have access to numerous resources to help them overcome challenges as they progress across the four years. The TRIO Student Success advisors continued their good work with 140 students who were first-generation or Pell-eligible or who had disabilities; recognizing the graduating seniors in that program was a joyful part of the conclusion of the semester. Additional ceremonies were held for our nursing students who earned their RN credential from UPMC Jameson School of Nursing or their BSN degree from Westminster. I am proud that these great students stand ready to provide healthcare in our region.
I could share so many stories about the connections that Titans found in and through other arenas as well, from the Wellness Center, the Entrepreneurship Center, the Academic Success Center, athletic teams, the Honors program, and the Financial Analyst Program to the individual research opportunities with faculty, senior capstone projects, service or academic trips, Greek societies, and student activities. These stories are made possible through the generosity of alumni and friends who provide scholarship funds, internship positions and career referrals. Those of you who volunteer on campus at events like the Professional Networking Symposium, Homecoming and URAC lend active support for students as they walk through their four years of education, enabling them to graduate on time poised for lives of success and meaning. Alumni frequently share stories about the faculty, coach or staff member whose support helped them grow and achieve their best. And, certainly, Titan alumni continue to connect with each other as well, offering professional networking and personal friendships that last long after the march across Weisel Senior Terrace. It's evident that the web of caring that Titans provide each other transcends campus borders and calendar pages, for the "We in Westminster" doesn't end at Commencement.
Thank you for your help in fostering the collaborative and supportive environment Westminster offers current and future students. Your gifts of time, talent and treasure help ensure that no Titan has to walk their educational pathway alone. Together, we are Titan strong.
Dr. Kathy B. Richardson
President of Westminster College