Dr. Kathy Brittain Richardson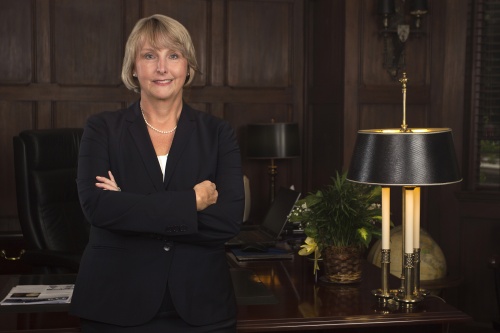 Dr. Kathy Brittain Richardson became Westminster College's 15th president on July 1, 2016.
Before coming to Westminster College, Richardson was provost and professor of communication at Berry College, Mt. Berry, Georgia. She served as the chief academic officer, which included responsibility for working with six deans to coordinate management of the four academic schools and division of nursing and providing oversight to some 250 faculty and academic staff.
Previous administrative responsibilities included oversight of academic advising and the registrar's office, library, institutional research, enrollment management, faculty research and sponsored programs, academic technology, honors, international programs, and the offices of first-year experience and academic support.
Richardson is also an accomplished academic and impactful teacher, receiving many accolades including top faculty teaching, scholarship and leadership awards.
A highly regarded scholar, Richardson co-authored Media Ethics: Cases and Moral Reasoning, which is soon to be published in its 10th edition, and Applied Public Relations: Cases in Stakeholder Management, now in its 3rd edition. Richardson has been editor of Journalism and Communication Monographs and was co-editor of the National Forensic Journal.
She is a member of the editorial board of Mass Communication & Society and the Journal of Mass Media Ethics. Richardson has published journal articles and book chapters in media ethics, product promotion, visual imagery, communication pedagogy and student-press regulation. In 2014, she was recognized as the Alumna Scholar of the Year by the Grady College of Journalism and Mass Communication of the University of Georgia.
Richardson is an active member of the Association for Education in Journalism and Mass Communication and has served as head of the Mass Communication and Society Division. In 2012, she received the Professor of the Year award from the Small Programs Division of AEJMC.
Dr. Richardson earned a Bachelor of Arts in Communication and Religion/Philosophy, summa cum laude, from Shorter College, a master's degree in journalism and a doctorate in mass communication from the Grady College of Journalism and Mass Communication at the University of Georgia. She completed additional graduate coursework in communication at the University of Oklahoma.
She is married to Dr. Randy Richardson and has two adult stepchildren, Ashton and Lauren.
A Letter from President Richardson, Summer 2020
---
Dear Friends of Westminster College:
Weeks of quarantine offer a lot of time for reflection. As I have worked from home since mid-March, I've watched the scene outside my home office window change from sunshine to rain to snow (even on the morning of May 9, which should have been Commencement at Westminster!) to what is now the blossoms of late spring and early summer. It's been many years since I've been afforded such a view of nature as I look up from my computer screen. The bees dashing about the rhododendron bush outside my window have reminded me of the frantic pace of a typical spring semester—and how that can suddenly be changed by a state mandate and a dangerous virus.
Even as I observed the physical changes happening outside my window, my introspections have changed as well. Intense concern about the impact of the virus on our students and community was compounded by calculations of the legal and financial implications of the pandemic on the College and this region, and then swelled into an overwhelming appreciation for the tremendous support offered our students by their friends and our faculty, staff, alumni and friends. These weeks have provided an unexpected opportunity to look back and to look ahead.
COVID-19 disrupted the highly residential face-to-face teaching and learning that has characterized Westminster for decades. In response to the mandate from Pennsylvania's governor, our residential students were not allowed to return to campus after spring break, and we began virtual teaching and learning, while our staff worked from home. Our faculty and staff rose to the challenge with heroic commitment. Our students, suddenly dispersed with little notice, coped with the changes not only in their courses but also in the lives of their families and homes. While space here doesn't allow me to note every department on campus that contributed to this effort, I am thankful for the dedicated and collaborative work of our faculty, staff and students that made this transition possible. We have learned a great deal about what helps strengthen this type of teaching and learning that will inform us in coming weeks and months.
The stay-at-home mandate also prompted some positive innovations to campus operations that had been disrupted .In particular, our digital Bring Back the Titans fundraising campaign, launched quickly in April to solicit financial support for students and their families who had been adversely impacted by the economic downturn caused by the pandemic, was heartwarmingly successful, as was our digital Clash of the Titans campaign, designed to offset the athletics fundraising and camp revenue opportunities lost when the campus was closed. Both campaigns led me to reflect on the deep loyalty and support so many offer Mother Fair and prompted deep gratitude for their efforts.
Even now as we plan to return to campus in the fall, we know we will need to implement different practices and policies as we seek to provide a safe environment for students, faculty, and staff. The faculty has adjusted the fall term calendar to begin two weeks earlier, and we are exploring different sites for teaching that will allow for physical distancing. Some of the treasured traditions of the opening of the academic year will be newly different—even as our first-year students are experiencing the transition from high school to college. Many of us may have greater empathy for their adjustments as we ourselves have to adapt.
I've also had opportunity over the past few days to grieve and to reflect about the response of our nation to the calls for justice and equality in our systems prompted by the tragic deaths of Brionna Taylor, George Floyd, Ahmaud Arbery and too many others, as I'm sure many of you have. It's prompted me to again ponder the vision of the Presbyterian elders who in 1852 founded this College as an institute of higher learning that was not just open to men, but also to women and persons of color without regard to faith or creed—an historic vision that reflected their deep faith and commitment to the power of education to shape lives and communities for the greater good. Their vision has given me new hope for this day and time, when as a College, we can renew our commitment to those inclusive ideals and core values and to the actions living out those values will require. Doing so will require all of us to listen and learn, to participate in challenging conversations, and to change some long-established ideas and practices. It will not be easy work, but it is necessary work.
We've moved into a "green" phase here in our region of the Commonwealth, a new season for us, and we'll soon return to our offices and classrooms. I'll return with a new appreciation for all that makes a deeply experiential residential liberal arts education so valuable—and with a determination to do the good work necessary for renewal and change, even as we remain focused on the College's vital mission to "help students develop competencies, commitments and characteristics that have distinguished human beings at their best." Together again, the "We in Westminster" will continue to be Titan strong.
With gratitude for your support of Westminster,
Dr. Kathy B. Richardson
A Special Message from President Richardson
---
June, 2020
We at Westminster are mindful of the grief, fear and anger felt by our Black students and other members of our community in recent days. We also support those who are calling for justice and accountability. Black Lives Matter. No one should be subject to police brutality and racial injustice.
Our institution was founded with a vision for inclusion and acceptance, and we seek each day to live out that vision. The College motto reminds us of the importance of "sealing the law"—keeping the law of love toward God and all humankind as a part of our everyday actions. As a society, an institution and as individuals, we have much to achieve if we are to demonstrate that law of love daily. Growing up in Georgia when I did, I saw firsthand the inequities and mistreatment afforded Black residents in my town and state. Yet I also saw the progress achieved when righteous men and women acted courageously to spark the changes that were so desperately needed.
As a campus community, we are committed to such a process. We have just completed a Campus Climate Survey to help us better understand the experiences of students, staff and faculty on our campus, and this fall we will join with Associate Dean of Students Candace Okello who will guide our work on campus inclusion and diversity. During the coming year, we will resume our "Civil Dialogues" on campus, frank times for listening and learning together that will be led by our Student Government Association, and our entering first-year students will again read Just Mercy by Brian Stevenson as their first college assignment.
We have sent messages of support to our students this week and will continue to do so throughout the summer. Vice President Vance has offered additional resources to our students to help promote better understanding and response to the need for equity and respect. I will be working through those materials this summer as I acknowledge how much I need to learn and to grow.
As we live and work together on our campus, let us remain committed to seeking justice, loving mercy and walking humbly before God as the prophet Micah charged us to so many centuries ago. The work will not be easy, but it is critically important for all of us to engage in as members of the "We in Westminster" community. Together, and only together, we are Titan strong.
Dr. Kathy B. Richardson