Dr. Kathy Brittain Richardson
A Letter from President Richardson
---
Dear Friends of Westminster College:
It was the inspiring history that first caught my heart: Westminster's commitment from its beginning in 1852 to take the risky step of opening its doors not only to men, but also to women and people of color. Westminster's commitment to the core importance of education in and for the lives of all people has not wavered since that time. Its faculty, staff and leadership still understand that informed thought inspires creative action and maintain an educational community designed to foster intellectual curiosity, deep learning and public service.
In an age when it may seem that all knowledge is but a few digital clicks away, the responsibility of helping students understand that data has to become information and that information needs to be critically examined instead of becoming casually accepted continues to be at the center of education at Westminster.  Students are challenged through a series of courses drawn from the best in human tradition, the humanities, arts, sciences and social sciences. They are then encouraged—even expected—to engage in scholarship under the mentorship of a faculty member and to seek experiences both on and off campus (internships, international study, practicums) that will allow them to practice what they are learning in the classrooms, labs and studios.
This practice exemplifies the best of the Isocratic model for education in a democracy. Isocrates, a Greek teacher, took small groups of students and transformed them into the greatest leaders of the world's first democracy. As Cicero described centuries later:  "From his school as from the Trojan Horse, none but leaders emerged." Isocrates' belief in the necessity of a well-rounded education consisting of rhetoric, science, mathematics and literature and more have led many to call him the "father of the liberal arts." The purpose of such an education was to turn students into citizens by challenging them to use their own abilities to solve real-world problems. Thus, he melded the concepts of liberal learning with practical application in ways that helped foster the civic imagination and creativity that characterized the best of ancient Greece.
At Westminster, that type of education continues. Each student, regardless of major or areas of emphasis, earns a deep foundation in liberal studies. Some choose to focus on one of those core areas that Isocrates emphasized. Others pursue other disciplines, from education to business. The Isocratean model is demonstrated each year through the strong comprehensive liberal arts offerings at Westminster. In each area, the natural talent and abilities of students are challenged and honed so that they graduate ready for leadership and service—and the contributions of alumni for decades demonstrate how successful that type of education has been.
Education that grounds students in liberal learning and prepares them for leadership and citizenship; a college community deeply committed to welcoming each student into the tradition of learning and service—it has been the Westminster tradition since its founding, and it continues on today.
I am deeply honored to have become a part of the Westminster community, and I look forward with excitement to the days and months that lie ahead.
Sincerely,
Kathy B. Richardson
President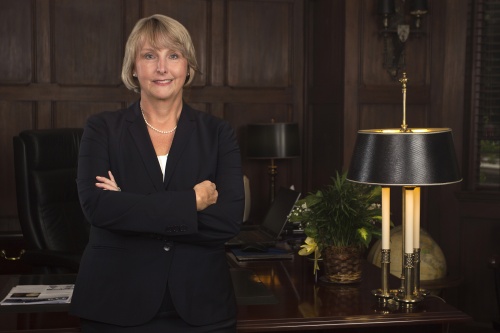 Dr. Kathy Brittain Richardson became Westminster College's 15th president on July 1, 2016.
Before coming to Westminster College, Richardson was provost and professor of communication at Berry College, Mt. Berry, Georgia. She served as the chief academic officer, which included responsibility for working with six deans to coordinate management of the four academic schools and division of nursing and providing oversight to some 250 faculty and academic staff.
Previous administrative responsibilities included oversight of academic advising and the registrar's office, library, institutional research, enrollment management, faculty research and sponsored programs, academic technology, honors, international programs, and the offices of first-year experience and academic support.
Richardson is also an accomplished academic and impactful teacher, receiving many accolades including top faculty teaching, scholarship and leadership awards.
A highly regarded scholar, Richardson co-authored Media Ethics: Cases and Moral Reasoning, which is soon to be published in its 10th edition, and Applied Public Relations: Cases in Stakeholder Management, now in its 3rd edition. Richardson has been editor of Journalism and Communication Monographs and was co-editor of the National Forensic Journal.
She is a member of the editorial board of Mass Communication & Society and the Journal of Mass Media Ethics. Richardson has published journal articles and book chapters in media ethics, product promotion, visual imagery, communication pedagogy and student-press regulation. In 2014, she was recognized as the Alumna Scholar of the Year by the Grady College of Journalism and Mass Communication of the University of Georgia.
Richardson is an active member of the Association for Education in Journalism and Mass Communication and has served as head of the Mass Communication and Society Division. In 2012, she received the Professor of the Year award from the Small Programs Division of AEJMC.
Dr. Richardson earned a Bachelor of Arts in Communication and Religion/Philosophy, summa cum laude, from Shorter College, a master's degree in journalism and a doctorate in mass communication from the Grady College of Journalism and Mass Communication at the University of Georgia. She completed additional graduate coursework in communication at the University of Oklahoma.
She is married to Dr. Randy Richardson and has two adult stepchildren, Ashton and Lauren.