Winifred Limmer, a Westminster College senior psychology major from New Vernon, N.J., was recently awarded a Drinko Center for Excellence in Teaching and Learning Undergraduate Research Travel/Presentation Grant.
"The research grants for projects and creative activities must be conducted under the mentorship of Westminster College faculty," said Dr. Virginia Tomlinson, director of the Drinko Center for Excellence in Teaching and Learning at Westminster College. "Funding may include supplies, equipment, travel to libraries and data sources, and travel to make presentations. In order to apply for research support, the student must have a research proposal completed as a degree-seeking student at Westminster College, and be in good academic standing."
Limmer is a daughter of John and Meredith Limmer, New Vernon, N.J., and a graduate of Newark Academy. The title of her research is, "Etiology of executive functioning deficits: Can they be attributed to obsessive-compulsive disorder or comorbid depression?" and she was advised by Dr. Kirk Lunnen, assistant professor of psychology.
"Some studies have implied a relationship between executive functioning deficits and Obsessive-Compulsive Disorder, but they failed to control for depression. Based on screening scores, 46 participants were assigned to an OC-symptomatic, a depressed/OC-symptomatic, or a control group. The Wisconsin Card Sorting Test and Trail Making Tests were administered. Some of the OCD and control participants first completed a stressor task. Depressed/OCD participants performed the poorest on both tests. OCD participant s in the hyperarousal condition performed poorer than those in the neutral condition. This indicates that executive functioning deficits are due primarily to comorbid depression, not OCD. Results also suggest that the deficits observed in individuals with OCD may be due to hyperarousal," wrote Limmer.
Contact Tomlinson at (724) 946-6033 or e-mail tomlinvm@westminster.edu for more information.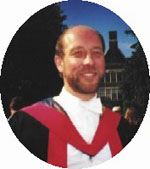 Dr. Bryan Rennie
, associate professor of religion and philosophy, recently presented a paper at the Eastern International Regional Meeting of the American Academy of Religion held at Mercyhurst College.
The paper, "Compassion as Evidence of Understanding: A Response to Carl Olson's Indian Philosophers and Postmodern Thinkers," argues that while Olson, a professor of history of religion at Allegheny College, does an excellent job of presenting the thought of a collection of classical and contemporary Indian thinkers, his understanding of those contemporary Western authors dubbed postmodern is less than satisfactory.
Displaying 851-860 of 4947 total records