Westminster College will host more than 900 students from 55 area schools to participate in the northwestern regional Science Olympiad competition on Friday, April 2.
The competition runs from 9 a.m.-2 p.m., and features middle school and high school students' science projects and experiments.  Robot Ramble, Bottle Rocket, Naked Egg Drop and Robo Billiards are just four of the highly-visible experiments that will be educational as well as fun for spectators.
The competitions balance students' knowledge of facts, concepts, processes and applications, as well as their skills.  The focus throughout the competition is on learning, participating, interacting, having fun, and developing team spirit.
Middle and junior high schools competing are: Apollo-Ridge, Brookville Area, Butler, Clarion, DuBois, Farrell, Ford City, Freedom Area, Indiana Area, Kane Area, Laurel, Maplewood, Mohawk, Neshannock, New Castle Christian Academy, North Clarion, North East, Oil City, Redbank, Riverside, Shady Side Academy, St. Mary's Area, St. Stephen, St. Ursula, St. Vitus, Union, and West Allegheny.
High schools competing are: Apollo-Ridge, Blairsville, Brookville Area, Clarion Area, Cochranton Area, DuBois, Ford, Franklin Area, Grove City Area, Indiana Area, Kane Area, Kittaning, Laurel, Maplewood, Montour, North Clarion, North East, Oil City, Penns Manor, Quaker Valley, Redbank, Saegertown, Seneca, St. Mary's, Titusville, Union, Warren Area, and West Allegheny.
The Science Olympiad is an international non-profit organization devoted to improving the quality of science education, increasing student interest in science, and providing recognition for outstanding achievement in science education by both teachers and students.  The Science Olympiad tournaments are rigorous academic interscholastic competitions that consist of a series of individual and team events, which students prepare during the year.
For more information, contact Dr. Martha Joseph, assistant professor of chemistry at Westminster College and director of the event, at (724) 946-7295 or e-mail josephm@westminster.edu or visit the website: http://www.westminster.edu/Acad/dean/olymp.htm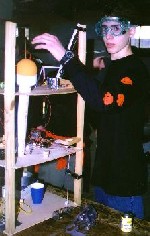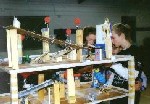 More than 60 Westminster College students recently participated in the annual "College Bowl."
 "The College Bowl' is a trivia game where two teams go head to head for seven-minute halves.  This year we had 16 teams compete," said James McElree, a junior public relations major from Zelienople and academics chair for the College Bowl.  "There are tossup questions worth 10 points, then whichever team answers the tossup correctly gets a chance at a bonus question worth between 10 and 30 points.  The team with the most points at the end of the game moves on in this single-elimination tournament."
 The first-place team of Lee Scott, Ashley Williams, Brad Patton, and Lindsay Lutes won $300.  The second-place team of Ben Nelson, Christie Grewe, Megan Costello, and Aaron Bruck won $200.  The third-place team of includes Ben Libert, Mary Huebert, Andrea Ceplecci, and Dennis Buffone won $100.  The fourth-place team of includes Sarah Kramer, Lisa DeDesiderio, Zachary, Hudson, and Jeff Brownlee won $50.
 For more information, contact McElree at mcelrejc@westminster.edu
Displaying 851-860 of 5102 total records