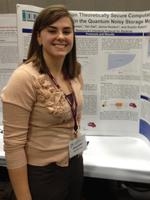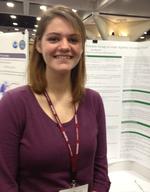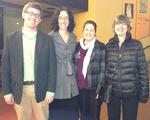 NEW WILMINGTON, Pa. - Westminster College senior mathematics majors Jenna Huston and Lisa Kaylor received undergraduate research grants from Westminster's Drinko Center for Experiential Learning, and presented their research at the joint meetings and annual conference of the American Mathematical Society (AMS) and the Mathematical Association of America (MAA) Jan. 9-12 in San Diego. Six Westminster faculty also attended and presented at the conference.
---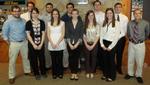 NEW WILMINGTON, Pa. - Twelve Westminster College chemistry and biochemistry majors presented the results of a service-learning project at a meeting of the Slippery Rock Watershed Coalition (SRWC) Nov. 14 at the Jennings Environmental Education Center.
---
Westminster College will host more than 900 students from 55 area schools to participate in the northwestern regional Science Olympiad competition on Friday, April 2.
The competition runs from 9 a.m.-2 p.m., and features middle school and high school students' science projects and experiments.  Robot Ramble, Bottle Rocket, Naked Egg Drop and Robo Billiards are just four of the highly-visible experiments that will be educational as well as fun for spectators.
The competitions balance students' knowledge of facts, concepts, processes and applications, as well as their skills.  The focus throughout the competition is on learning, participating, interacting, having fun, and developing team spirit.
Middle and junior high schools competing are: Apollo-Ridge, Brookville Area, Butler, Clarion, DuBois, Farrell, Ford City, Freedom Area, Indiana Area, Kane Area, Laurel, Maplewood, Mohawk, Neshannock, New Castle Christian Academy, North Clarion, North East, Oil City, Redbank, Riverside, Shady Side Academy, St. Mary's Area, St. Stephen, St. Ursula, St. Vitus, Union, and West Allegheny.
High schools competing are: Apollo-Ridge, Blairsville, Brookville Area, Clarion Area, Cochranton Area, DuBois, Ford, Franklin Area, Grove City Area, Indiana Area, Kane Area, Kittaning, Laurel, Maplewood, Montour, North Clarion, North East, Oil City, Penns Manor, Quaker Valley, Redbank, Saegertown, Seneca, St. Mary's, Titusville, Union, Warren Area, and West Allegheny.
The Science Olympiad is an international non-profit organization devoted to improving the quality of science education, increasing student interest in science, and providing recognition for outstanding achievement in science education by both teachers and students.  The Science Olympiad tournaments are rigorous academic interscholastic competitions that consist of a series of individual and team events, which students prepare during the year.
For more information, contact Dr. Martha Joseph, assistant professor of chemistry at Westminster College and director of the event, at (724) 946-7295 or e-mail josephm@westminster.edu or visit the website: http://www.westminster.edu/Acad/dean/olymp.htm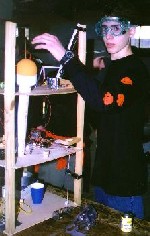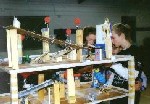 ---
More than 60 Westminster College students recently participated in the annual "College Bowl."
 "The College Bowl' is a trivia game where two teams go head to head for seven-minute halves.  This year we had 16 teams compete," said James McElree, a junior public relations major from Zelienople and academics chair for the College Bowl.  "There are tossup questions worth 10 points, then whichever team answers the tossup correctly gets a chance at a bonus question worth between 10 and 30 points.  The team with the most points at the end of the game moves on in this single-elimination tournament."
 The first-place team of Lee Scott, Ashley Williams, Brad Patton, and Lindsay Lutes won $300.  The second-place team of Ben Nelson, Christie Grewe, Megan Costello, and Aaron Bruck won $200.  The third-place team of includes Ben Libert, Mary Huebert, Andrea Ceplecci, and Dennis Buffone won $100.  The fourth-place team of includes Sarah Kramer, Lisa DeDesiderio, Zachary, Hudson, and Jeff Brownlee won $50.
 For more information, contact McElree at mcelrejc@westminster.edu
---
Dr. David Shaffer, an assistant professor of computer science at Westminster College, recently presented a talk on the "SeasideTesting" framework at Smalltalk Solutions Conference in Orlando and the European Smalltalk Users Group Conference in Brussels.
The conferences were attended by software developers and professors interested in the Smalltalk programming language and environment.
For the past two years, Shaffer has been actively developing the software, SeasideTesting, a framework for testing web server applications. "I presented a half-day tutorial session on the 'Seaside' framework and a 45-minute talk on my 'SeasideTesting,' work" Shaffer said. "Seaside is a set of tools for developing Web applications. My tutorial focused on both introductory and advanced Seaside development topics like Web components, decorations, and dealing with object databases. SeasideTesting grew out of a need for a way to write automated tests for software written using Seaside."
While at the conference in Brussels, Shaffer presented another testing framework, which he has developed, called "Squellenium," and chaired a session on Smalltalk in education.
While at the conference in Orlando, Shaffer met with Eric Evans, author of 'Domain Driven Design.'
"His book is a potential textbook for our capstone course, and I had the unique opportunity to sit with him and discuss what parts of it Westminster might be able to use." Shaffer said
Contact Shaffer at (724) 946-7292 or e-mail shaffecd@westminster.edu for more information.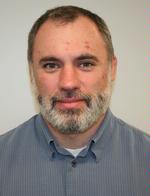 ---
Dr. John Bonomo, Westminster College associate professor of computer science professor at Westminster College, has served as judge for the 30th annual International Collegiate Programming Contest World Finals in San Antonio, Texas.
"This year, two of my problems were selected for inclusion in the 10-problem contest set which was given to the contestants," Bonomo said. "To get to the finals, 5,606 three-person teams from 1,737 universities in 84 countries competed in 183 regional sites world-wide. From these regional contests a record 83 teams advanced to the World Finals, and when all was said and done, the winner was Saratov State University from Russia which solved 6 out of the 10 problems in the allotted contest time of five hours."
Bonomo was a regional judge for five years. He has been an international judge five times -- in Hawaii, San Antonio, Los Angeles, Prague, and Shanghai.
Bonomo, who has been with Westminster College since 1998, earned his undergraduate and master's degree from Catholic University, and a master's and Ph.D. from Purdue University.
Contact Bonomo at (724) 946-7287 or e-mail bonomojp@westminster.edu for more information.
---
Kappa Delta Pi, Westminster College's international education honor society, will receive the Achieving Chapter Excellence Award (ACE) at the Kappa Delta Pi National Convocation, Nov. 10 in Orlando, Fla.
---
Westminster College will celebrate Homecoming with a weekend of activities Friday-Sunday, Oct. 6-8.
---
Dr. Russell Martin
, associate professor of history at Westminster College, recently edited a special edition of the journal of
Russian Studies in History.
  The special issue is titled "Death and Commemoration in Muscovy."
 "I wrote the general introduction to the volume, which is followed by four translations of articles of Russian scholars, all friends and colleagues of mine," said Martin.  "I'm thrilled, as always, to have the publication, but I'm especially thrilled this time because I've included an article by Professor V. Dergachev, who died recently.  In addition to being a good friend and colleague, he is the father of modern study of death in Russia.  It is, in some ways, a tribute to him that this volume appears."
---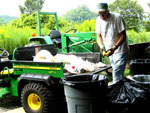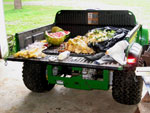 Westminster College is a friendly, family-oriented college. This was evident on August 23 at the annual All-Campus Picnic for faculty, staff AND families. Retired employees and their families were invited too. This happened in Anderson Amphitheater on a clear evening by Brittain Lake. It was a delightful and fun-filled evening with music, camaraderie, games for children, introduction of new employees . . . and food. Food brings people together for picnics, especially this time of the year. That is good.
---
Displaying 881-890 of 5126 total records