Local elementary students from kindergarten to second grade recently enjoyed "Reading is Fun" night sponsored by the Kappa Delta Pi, an international education honor society.
During the night of reading, students were invited to celebrate the theme, "Spring Fling, It's a Family Thing," by playing a game to get to know each other, drawing a mural, and reading books.  The mural can be found on the third floor of Old Main.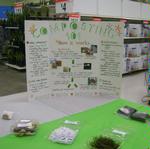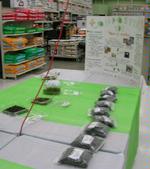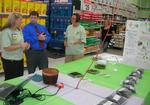 The address of the Field Station is 937 Fayette-New Wilmington Road and most activities do take place at this 50+ acre plot. But from time to time we take a road trip in behalf of the interests and activities that concern us. That happened on Friday, June 19, when the composting project of the Field Station hit the road and, at a distance of 40 miles, was the focus of a display in center aisle of the Chippewa Wal-Mart store! This event was part of a larger "expo" put on by more than 20 Wal-Marts of the Pittsburgh District. Called "The First Annual Personal Sustainability Projects Fair," the extravaganza was devoted to sustainability, a worthwhile topic that has become a commitment for the nation's largest retailer.
Displaying 881-890 of 5385 total records