Dr. Patricia Clark, Westminster assistant professor of history, recently served as a consultant for the College Board Advanced Placement Best Practices Course Study conducted by the Center for Educational Policy Research held at the University of Oregon.
"I was a document rater in the subject area of world history," Clark said. "This involved evaluating course materials such as syllabi and exams used in introductory world history courses at colleges and universities around the country to determine 'best practices' courses. Best practices courses are exemplary models in three areas: the topics and themes covered; the cognitive skills developed; and the teaching methods employed in the course. Outstanding courses covered world history topics and themes not only in breadth, but also in depth; taught a wide range of research and study skills; and utilized innovative teaching methodologies."
"The study's goal is to develop high school Advanced Placement courses that better reflect college curricula," Clark added. "Considering what constitutes an effective history course has helped me to reflect on my own teaching methods and course development."
Clark, who has been with Westminster College since 2004, earned her undergraduate degree from Michigan State University, and master's and Ph.D. from the University of Illinois.
Contact Clark at (724) 946-7248 or e-mail clarkpg@westminster.edu for more information.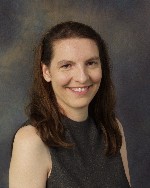 ---
Six Westminster College students performed in the annual Intercollegiate Choral Festival held at Bloomsburg University Oct. 27.
---
Dr. Russell E. Martin, assistant professor of history at Westminster College, will lecture Friday, Oct. 13 at the Kathryn W. and Shelby Cullom Davis Center for Russian Studies at Harvard University.
---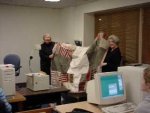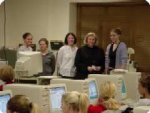 Several Westminster students were recognized recently for their volunteer work at the Lawrence County Women's Shelter.
"Locating student who were willing to assist at the shelter was easy," according to Dr. Linda Domanski, assistant professor of education.  "Since September, a number of students have volunteered to help with this project."
---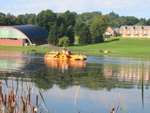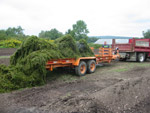 The word "harvest" usually means that we are taking the fruit, seeds or other parts of plants that will provide food or in some other way enrich our lives. We also harvest pondweed from Brittain Lake on Westminster's campus, not as a direct food but as a way to control overgrowth of an invasive plant, the Eurasian milfoil. This pondweed is native to Europe, Asia and northern Africa. It was introduced to the U.S. in the 1940s although the source of the original introduction is unclear. Now Eurasian milfoil occurs in nearly every state in the U.S. In the past it was sometimes sold as an aquarium plant by pet stores. Milfoil is a flowering plant. It sends tiny clusters of flowers above the water level for pollination. And this isn't the only species to make Brittain Lake look shaggy. There are other aquatic flowering plants and filamentous algae to contend with.
---
Dr. Elizabeth Shear Orndorff, publications director at Westminster College from 1981-1985, received an "Angie" award for Best New Play at the International Mystery Writers Festival in Owensboro, Ky. The award was given by actress Angela Lansbury via television hookup during the closing gala ceremony.
---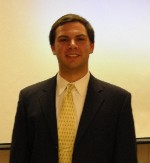 Eight Westminster College students and four faculty attended the 10th annual regional Student Paper Meeting hosted by the Ohio XI Chapter of Pi Mu Epsilon at Youngstown State University March 1.
---
Gina Sharbaugh, Westminster College senior associate director of admissions, will be visiting local high schools in western Pennsylvania Wednesday, Nov. 19:
- Elderton High School, 9:30 a.m.
- West Shamokin Junior-Senior High School in Rural Valley, 11:30 a.m.
- Ford City Junior-Senior High School, 1:30 p.m.
---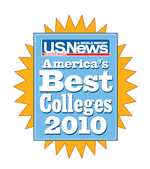 Westminster College is ranked in the top tier of liberal arts colleges, according to U.S.News & World Report's 2010 Guide to America' s Best Colleges.
---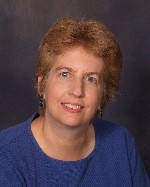 Dr. Kristin Park, Westminster College associate professor of sociology, organized, presided over, and participated in a panel discussion at the Eastern Sociological Society annual meeting March 18-21 in Boston.
---
Displaying 871-880 of 5075 total records