The Westminster College Men's Chorus, Women's Chorus, and Women's Chamber Ensemble will present "An Afternoon of Song" Sunday, April 18, at 3 p.m. in Wallace Memorial Chapel. The concert is free and open to the public.
---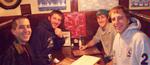 Four Westminster College mathematics students participated in the 71st annual Putnam Examination Dec. 4 on campus.
---
Westminster College will celebrate Homecoming with a variety of activities Oct. 14-16.
---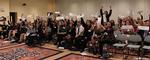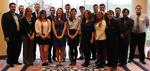 Westminster College hosted more than 250 students from 20 area high schools, the largest delegation ever at Westminster, for the fourth annual Model United Nations Conference April 23.
---
Westminster College will host the 11th annual New Wilmington Chamber of Commerce Business Expo Saturday, March 9, from 10 a.m. - 3 p.m. in Memorial Field House.
---
NEW WILMINGTON, Pa. - Eleven students in the Westminster College "Strategic Management" capstone course recently completed a global simulation known as the Business Strategy Game. Nine placed in the Top 100 for their performance at least once during the semester.
---
Rachel Varine, a junior music performance major at Westminster College, will give a recital Saturday, April 3, at 3 p.m. in Wallace Memorial Chapel.
Accompanied by adjunct professor Jeff Wachter, Varine's program includes Handel's "Rejoice Greatly" from The Messiah, Purcell's "Music for a While, Liszt's "O quande je dors" Debussy's "Nuit de'etoile" and Marx's "Und Gestern hat er mir Rosen gebracht."  After intermission Varine will continue with Puccini's "Signore ascolta!" from Turandot, Offenbach's "Elle fui la tourtorelle" from The Tales of Hoffman, and Sondheim's "Green Finch and Linnet Bird from Sweeney Todd.  Her final selection, Bernstein's "Dream with Me" will be accompanied by Heidi Abel, a junior music education major from Westminster, Colo., on the viola.
Varine is a daughter of John and Gail Varine from Vandergrift, and a graduate of Leechburg Area High School.  Varine is a member of the Westminster Concert Choir and Chamber Singers.  During her time at Westminster, she has performed in four musicals and two operas, playing the role of Suzanne in Suzanne's Secret and Gretel in Hansel and Gretel. 
The event is free and open to the public.  For more information, contact the Westminster College Department of Music at (724) 946-7270.
---
Nine Westminster College senior mathematic majors will present their capstone research projects Thursday, Dec. 16, at 11 a.m. in the McKelvey Campus Center third floor atrium.
The final component of Liberal Studies at Westminster is a senior capstone course, which is at least a four-semester-hour course within the major designed to provide an opportunity for students to evaluate and assess the strengths and limitations of their major field.
For more information about the event, which is open to the public, contact Dr. Barbara Faires, chair of the Department of Mathematics and Computer Science, at (724) 946-7293 or e-mail faires@westminster.edu.
Beaver Falls, PA
 Jollene Weister is a daughter of Kenneth and Joann Weister.  Weister, a senior mathematics major, is a graduate of Blackhawk High School.
Pittsburgh, PA
 Evan King is a son of Mary Ann and John King.  King, a senior mathematics major, is a graduate of Northgate High School.
 Kristal Seale is a daughter of Kathleen Seale.  Seale, a junior mathematics major, is a graduate of Baldwin High School.
Washington, PA
 Christa Mayer is a daughter of Henry and Nancy Ahrns.  Mayer, a senior mathematics major, is a graduate of Trinity High School.
Elderton, PA
 Thomas Spencer is a son of Thomas and Kimberly Spencer.  Spencer, a senior mathematics major, is a graduate of Elderton High School.
New Castle, PA
 Christina Carlson is a daughter of Alan and Kimberly Carlson.  Carlson, a senior mathematics major, is a graduate of Laurel High School.
 Maroun Kanaan is a son of Peter and Bernadette Kanaan.  Kanaan, a senior mathematics major, is a graduate of Neshannock High School.
Edinburg, PA
 Bradley Patton is a son of Thomas and Karen Patton.  Patton, a senior computer science and mathematics major, is a graduate of Mohawk Area High School.
Girard, PA
 Emily Wehr is a daughter of David and Carolyn Wehr.  Wehr, a senior mathematics major, is a graduate of Girard High School.
---
Bill Carroll, president of the American Chemical Society (ACS), recently had lunch with of the Westminster College Chemistry Club students and faculty.
"Carroll's primary interest in visiting Westminster was to talk to students about why they chose chemistry as their academic focus and what career paths they intend to take," said Valerie Kokai, a junior chemistry major from Wexford. "Most students expressed that their interest in chemistry was ignited by their high school chemistry teachers."
The members of the Westminster College Chemistry Club recently gave demonstrations to preschool children at Westminster and to the entire campus as part of their efforts to raise public awareness.
Several members of the chemistry club also attended the Penn-Ohio Border Section (POBS) of the ACS meeting later that evening in Warren, Ohio. Carroll also spoke at that meeting, outlining ways the ACS intends to assist the victims of hurricane Katrina. The ACS plan includes replenishing the libraries of New Orleans with science literature and serving as a clearinghouse of scientific instrument replacement.
Carroll also talked about his vision for the future of the ACS, and asked members in attendance to express where they thought they would be in terms of the field in 2015.
"Responses centered on the need for increased funding for education and fundamental chemical research, particularly for finding alternative energy sources," said Kokai. "President Carroll's visit was filled with optimistic views of the chemical enterprise, including the potential for higher quality jobs in academia, industry, and government."
Contact Dr. Peter Smith, assistant professor of chemistry and adviser to the group, at (724) 946-7299 or e-mail smithpm@westminster.edu for more information.
---
Sebastian Lonigro, a Westminster College a senior psychology major from Cumberland, Md., was recently awarded a Drinko Center for Excellence in Teaching and Learning Undergraduate Research Travel/Presentation Grant.
"The research grants for projects and creative activities must be conducted under the mentorship of Westminster College faculty," said Dr. Virginia Tomlinson, director of the Drinko Center for Excellence in Teaching and Learning at Westminster College. "Funding may include supplies, equipment, travel to libraries and data sources, and travel to make presentations. In order to apply for research support, the student must have a research proposal completed as a degree-seeking student at Westminster College, and be in good academic standing."
Sebastian LoNigro is a son of Cathleen and Joseph LoNigro, Cumberland, Md., and a graduate of Fort Hill High School. The title of his research is, "The Role of Psychological Factors in Subjective Reports of Parasympathetic Arousal," and she was advised by Kirk Lunnen, assistant professor of psychology.
"Nesbitt (1973) reported that smokers describe feeling relaxed while smoking even though simultaneous physiological measurement indicates increased arousal. This phenomenon has been termed "Nesbitt's Paradox." Most research has focused on physiological explanations of the phenomenon, such as nicotine withdrawal. However, few studies have investigated the contributions of psychological factors to Nesbitt's Paradox. The present study examined the possible impact of manipulation of smoking materials on Nesbitt's Paradox. A sample of 18 smokers and 18 non-smokers participated in a stressor task and were then assigned to one of three experimental relaxation conditions: sham smoking, deep breathing, and control. Participants were compared on measures of blood pressure, heart rate, and skin temperature. Results indicated that there were no statistically significant differences between groups across the experimental conditions," wrote LoNigro.
Contact Tomlinson at (724) 946-6033 or e-mail tomlinvm@westminster.edu for more information.
---
Displaying 861-870 of 4948 total records