Dr. Russell Martin
, associate professor of history at Westminster College, recently edited a special edition of the journal of
Russian Studies in History.
  The special issue is titled "Death and Commemoration in Muscovy."
 "I wrote the general introduction to the volume, which is followed by four translations of articles of Russian scholars, all friends and colleagues of mine," said Martin.  "I'm thrilled, as always, to have the publication, but I'm especially thrilled this time because I've included an article by Professor V. Dergachev, who died recently.  In addition to being a good friend and colleague, he is the father of modern study of death in Russia.  It is, in some ways, a tribute to him that this volume appears."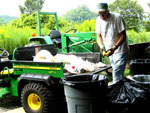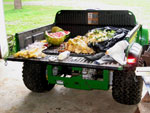 Westminster College is a friendly, family-oriented college. This was evident on August 23 at the annual All-Campus Picnic for faculty, staff AND families. Retired employees and their families were invited too. This happened in Anderson Amphitheater on a clear evening by Brittain Lake. It was a delightful and fun-filled evening with music, camaraderie, games for children, introduction of new employees . . . and food. Food brings people together for picnics, especially this time of the year. That is good.
Displaying 861-870 of 5099 total records