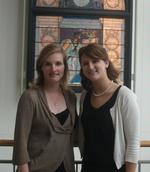 Katelyn Moga, a Westminster College sophomore political science major, and Dr. Edward Cohen, Westminster College associate professor and chair of the Department of Political Science and Sociology, attended the New Leadership Pennsylvania Institute June 7-12 at Chatham University in Pittsburgh.
---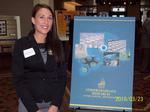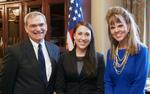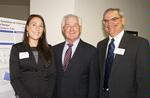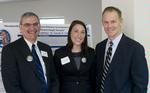 Westminster College senior mathematics major Kaitlyn McConville presented her research at the Undergraduate Research at the Capitol event held March 23 in Harrisburg.
---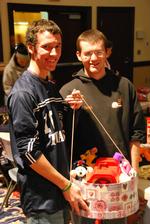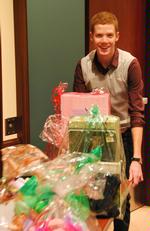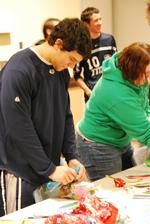 Westminster College's Civic Engagement Council will host a "Santa's Workshop" gift wrapping event Friday, Dec. 3, from 7-9 p.m. in the Witherspoon Lakeview Room of the McKelvey Campus Center.
---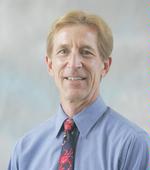 David Smith, Westminster College associate professor of accounting, will present "Knowing the Fundamentals of Personal Finance" Tuesday, Sept. 27, as the fall semester's first session of the "Get Real!" life preparation series. 
---
Westminster College's Chapel Drama will present The Lion, the Witch and the Wardrobe Friday and Sunday, April 20 and 22, in Wallace Memorial Chapel. 
---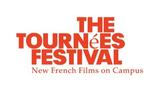 NEW WILMINGTON, Pa. - Westminster College's Departments of Modern Languages and English, in conjunction with the Jake Erhardt International Film Series, will host  Westminster's second Tournées Film Festival, a series of French and Francophone films to be shown on consecutive Tuesdays, Jan. 29-Feb. 26, at 7 p.m. in the Sebastian Mueller Theater of the McKelvey Campus Center.  The events are free to the public.
---
NEW WILMINGTON, Pa. - The Westminster College Graduate School will host a meeting to discuss procedures for state authorization of online distance education courses at 10 a.m. Thursday, Dec. 5, in the Lakeview Room, McKelvey Campus Center.
---
Two teams of Westminster College students recently competed in the East Central North American Regional Programming Tournament held at Ashland College.
 "We had a record 131 teams competing from Western Pennsylvania, Ohio, Indiana, Michigan, and Ontario," said Dr. John Bonomo, associate professor of computer science at Westminster College.  "The big news this year is that Westminster's Team A placed 15th out of 131, which is the best we've ever done in the competition.  No other liberal arts school placed higher than we did."
 Team A consisted of Bradley Patton, William Shondelmyer, and JeremyAlberth.  Team B, which finished 97th in the competition, consisted of Susan Johns, Bradley Kita, and Geoffrey Zimmerman.
 "Depending on the size of the region, the top two or three teams of the 31 regions advance to make the 75 teams that compete at the International Collegiate Programming Contest," Bonomo said.    "I will be judging the international contest, which will be held in Shanghai in April.  It's my fourth year in a row that I've been a judge, and the third time that they've used one of my problems in the competition."
This year regional contests were held simultaneously at Ashland University, the University of Cincinnati, Carnegie Mellon University, and Sheridan University.
 Bonomo, who has been with Westminster College since 1998, earned his undergraduate and master's degrees from Catholic University, and his Ph.D. from Purdue University.  He has been a judge or head judge at the regional competitions for the past six years, and a problem contributor for the past seven.
 For more information, contact Bonomo at (724) 946-7287 or e-mail bonomojp@westminster.edu.
 

---
Three alumni, Dr. David C. Carothers '75, Nancy Aikman Martin '75, and Dr. John S. Shaffer '77, will deliver lectures to Westminster College students Friday, Sept. 23.
Carothers, who earned his Ph.D. from Purdue University, is a professor of mathematics and head of the Department of Mathematics and Statistics at James Madison University. He is active in the Mathematics Association of America both in the regional and national offices. Carothers will speak about "Polynomial Differential Equations: A Case Study in How Mathematics is Done," which will consider polynomial systems of differential equations as an example of the often surprising ways in which mathematical collaborations develop. Carothers will show how willingness to ask naïve questions and to depart from conventional wisdom can lead to interesting and useful results.
Martin is a romance novelist turned mystery writer. Her romance novels have been published in 19 languages around the world and have appeared on bestseller lists in the United States and Canada. But after 38 romance novels, she turned to her real passion murder mysteries. Her first was "How to Murder a Millionaire" published in Oct. 2002, launched the Blackbird Sisters Mystery Series, which are stories about three impoverished heiresses of Bucks County, Pennsylvania. "Cross Your Heart and Hope to Die," the fourth and most recent book, was published in March 2005. A native of Brookville, Pa., Martin conducts writing workshops in the United States and Canada.
Shaffer is the executive deputy secretary for the Pennsylvania Department of Corrections. He is responsible for the internal operations of the department's 25 state correctional institutions, the motivational boot camp, and the community correction centers. His 28-year career has led him to progressively responsible positions as a counselor, a personnel analyst, a business manager, a litigation project direction, a deputy superintendent for facilities management, warden of the 2000-bed Allegheny County Jail, and deputy secretary for administration for the Department of Corrections. In 2002, he received the prestigious Lifetime Achievement Award from the Pennsylvania Prison Wardens Association.
---
Theatre Westminster presents Neil Simon's "Rumors" Thursday-Saturday, May 4-6, at 7:30 p.m. and Sunday, May 7, at 2:30 in Beeghly Theater.
"The play is set in May 1988 in an affluent neighborhood outside of New York City," said John Gresh, visiting assistant professor of theatre and director of the play. "The farce takes place inside the home of Deputy Mayor of New York Charley Brock and his wife, Myra, where they are celebrating their tenth wedding anniversary. When the guests arrive, they discover that Charley has been shot, though not seriously, and Myra is nowhere to be found. No one knows what has happened, but as more and more people arrive rumors and speculation take over. The comedy is in the unraveling the truth from the lies. This play is guaranteed to induce laughter."
To reserve tickets, call the Beeghly Box Office and leave a message with your name, number of tickets, and preferred date. Adults tickets are $7; non-Westminster students and senior tickets are $5.
Contact Gresh at (724) 946-7260 or e-mail greshjf@westminster.edu for more information.
---
Displaying 861-870 of 5324 total records