Westminster College kicks off its "Get Real!" life preparation series Thursday, Sept. 17, with "Wheels and Deals" presented by Mike Hietsch, general manager of Phil Fitts Ford Lincoln Mercury in New Castle.
---
The Jake Erhardt International Film Series concludes its season with the film Chi bi (Red Cliff) Tuesday, April 20, at 7 p.m. in the Sebastian Mueller Theater in the McKelvey Campus Center.
---
Westminster College ranks first in the nation as the "Best College for Women in Science, Technology, Engineering and Math (STEM)," according to rankings released today by Forbes.com.
---
Westminster College senior physics major William Armentrout received an undergraduate research grant from Westminster's Drinko Center for Excellence in Teaching and Learning.
---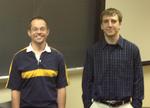 Westminster College's Department of Mathematics and Computer Science hosted alumni speakers Bradley Patton and Aaron Zavora for a job panel colloquium April 18.
---
Westminster College's Environmental Programs will host the Great Backyard Bird Count Feb. 16 at the Nature Center at 937 Fayette-New Wilmington Road, New Wilmington.
---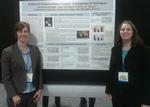 NEW WILMINGTON, Pa. - Westminster College chemistry major Danielle Murtagh and Associate Professor Dr. Helen Boylan presented a research paper titled "Produced Water: A Comparison of Techniques" at the Eastern Analytical Symposium (EAS) held in the fall in Somerset, N.J.
---
The Westminster College Planetarium presents "Navigating with Lewis & Clark" March 25-27 and April 1-3 at 7 p.m. in the Hoyt Science Resources Building.
Two hundred years ago, Lewis and Clark started from St. Louis to explore the new United States territory that stretched to the Pacific.  They were charged by President Jefferson to "¦take observations of the latitude and longitude at all remarkable points on the river¦as that they may with certainty be recognized hereafter."
This show will follow Lewis and Clark on their journey, visiting many of the sites, people, and animals along their path, and noting their various navigational observations along the way.  The show will include the astronomical observations used to make these measurements of longitude and latitude.  The event concludes with a brief tour of the current night sky.
The event is free and open to the public, but reservations are required due to limited seating.  Call (724) 946-7200 Monday-Friday 8:30 a.m.-4 p.m. for more information.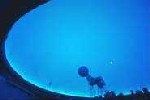 ---
In the spirit of holiday giving, the Westminster Titans are offering fans free admission to a top-level college basketball game, coupled with the opportunity to help those less fortunate.
Westminster will not charge admission to the men's basketball game between the Titans and the College of Wooster at Buzz Ridl Gymnasium in New Wilmington this Monday, Dec. 20, 2004 at 7:30 p.m. In lieu of admission, fans are being asked to bring non-perishable food items and/or monetary donations to the game to support the Inter-Church Food Bank, a program of the City Rescue Mission in New Castle. Specific items needed by the food bank include sugar, flour, soup, instant mashed potatoes, rice, macaroni & cheese, canned fruit, peas, carrots, hot chocolate mix, cake mix and icing.
The Westminster-Wooster contest promises to be one of the top small college basketball games in the area this season. The run-and-gun Titans (8-1), winners of seven straight games, are averaging over 114 points and 18 three-pointers per game. Westminster received votes in the most recent D3Hoops.com poll for the first time this season on Monday. Wooster (8-0) enters the game Monday ranked second in the nation in NCAA Division III by D3Hoops.com. The Scots, defending champions of the North Coast Athletic Conference (NCAC), return four starters from last year's 26-4 team which advanced to the NCAA Division III Elite Eight after earning a Final Four berth in 2003.
'We believe this is an opportunity for the local community to come out and see a great small college basketball contest and, just as important, be able to contribute to help needy families in our area,' Titan athletic director Jim Dafler said. 'We hope that the decision by Westminster to waive the normal admission fee will encourage people to come to the game Monday night and support this worthwhile cause.'
Local players dominate the Westminster roster, led by several Lawrence County products: junior guard Mark DeMonaco (New Castle/New Castle H.S.) (20.1 ppg, 5.3 apg); junior forward Dom Joseph (New Castle/New Castle H.S.) (14.9 ppg, 5.1 rpg); senior guard Ed Pagley (New Castle/New Castle H.S.) (14.9 ppg); freshman guard Craig Hannon (New Castle/Union H.S.) (13.2 ppg); junior guard Brian Fadden (New Castle/Mohawk H.S.) (9.8 ppg, 4.2 rpg); and freshman guard Bobby Preston (New Castle/Neshannock H.S.) (12 assists).
For more information, contact the Titan athletic department at (724) 946-7307.
---
Westminster College has awarded 28 freshmen $44,000 Young Presbyterian Scholarships.
Westminster College, a Presbyterian Church-related college, offers $44,000 scholarships to outstanding PC (USA) students and offers students a way to continue to grow in faith and leaderships while on the Westminster campus. The scholarships are given to all PC (USA) congregations, in essence, to award to a student of their choosing who meets the qualifications of active memberships in a PC (USA) congregation, and exhibits a 3.5 or higher cumulative high school grade point average.
"The key thing that I am observing about the Young Presbyterian Scholars Program is that the students are truly living up to their 'billing,'" said Carey Anne Meyer LaSor, coordinator of the Young Presbyterian Scholars Program. "When they were nominated, their pastors had the opportunity to share their own impressions of the young men or women, and often they were glowing reports. Last spring 10 of our first year's YPS students made the Dean's List, 10 were inducted into Lambda Sigma, eight were given departmental or other prizes and scholarships, one made the PAC Honor Roll in the fall semester, and one was recognized by Omicron Delta Kappa and Mortar Board as one of the top 10 freshman leaders on campus.
"I am constantly amazed by these young men and women." LaSor continued. "They are intelligent, caring, driven, able, friendly, spiritual young people who will, I believe, inspire this campus in ways we do not know yet. I can't wait to see what happens."
Nominations for the 2005-2006 scholarships are due by Oct. 31. Visit www.westminster.edu/yps for more information about the Young Presbyterian Scholars Program, of c ontact LaSor at (724) 946-7365.
---
Displaying 891-900 of 4943 total records