Westminster College students in the auditing class taught by Jesse Ligo, Westminster associate professor of accounting, visited the New Castle office of Carbis Walker Sept. 16.
---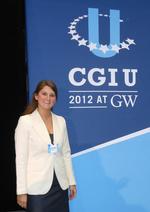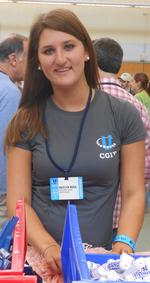 Westminster College senior political science major Katelyn Moga received a grant to attend the fifth annual Clinton Global Initiative University (CGI U) March 30-April 1 at George Washington University in Washington, D.C.
---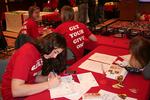 NEW WILMINGTON, Pa. - The Westminster College Student Philanthropy Program will host G.I.V.E. Day Thursday, Feb. 14, from 3-6 p.m. in the Witherspoon Rooms of McKelvey Campus Center.
---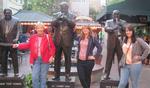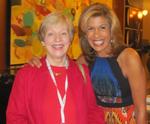 NEW WILMINGTON, Pa. - Westminster College's student newspaper Editor-in-Chief Melissa Dubrawka and News Editor Maggie Hess joined their adviser, Westminster Lecturer of Public Relations Delores Natale, at the National College Media Convention in October in New Orleans.
---
The Salzedo Harp Duo will perform at Westminster College Tuesday, March 30, at 7:30 p.m. in Wallace Memorial Chapel.
Duo harpists Jody Guinn and Nancy Lendrim have performed together in harp ensembles and orchestras for more than 20 years.  They both studied with world-renowned Alice Chaifoux at the Cleveland Institute of Music and at the Salzedo School in Camden, Maine.  They are also both active in the American Harp Society, holding various offices.  Lendrim is currently president of the Northwest Chapter of the AHS.
Shortly after the duo was formed in 2000 to promote the music of Carlos Salzedo, it was awarded a Mellon Foundation grant, as coordinated by the Toledo Symphony, to research and prepare Salzedo's little-known duo harp repertoire for public performance.  In 2002 the duo was invited to perform some of this music at the Eighth World Harp congress in Geneva, Switzerland.
The program includes "Pavane" by an unknown composer, "L'Indifferente et La Joyeuse" by Rameau, "Sixth French Suite" by Bach, "Short Stories" by Salzado, "Malaguena" by Lecuona, :Clair de Lune" by Debussy, "Spanish Dance No. 5" by Granados, "Song Without Words" by Mendelssohn, "Steel"by Salzedo and "Parvis" by Andres.
The event is free and open to the public.  For more information, contact the Westminster College Department of Music at (724) 946-7270.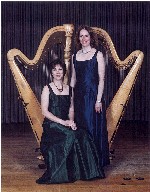 ---
Delores Natale, instructor of public relations at Westminster College, recently attended the Public Relations Society of America International Conference held in New York City.
 The conference, "Architects of Change, Advocates of Understanding: Advancing the Public Relations Profession," featured Donald Trump as the keynote speaker.
 "His advice for success in public relations or business included: stay focused, think big, enjoy what you are doing, never quit, get the best people and watch them, always see yourself as victorious, and be lucky," Natale said.  "I also attended several other sessions featuring speakers such as Juan Carlos Molleda from the University of Miami, Bey-Ling Sha from San Diego University, Jay Rayburn of Florida State University, and Elizabeth Toth of the University of Maryland."
 Natale, who has been with Westminster College since 2001, earned her bachelor's degree from Westminster College.  She is also the campus advisor to the Public Relations Student Society of America (PRSSA).
 For more information, contact Natale at (724) 946-7349 or e-mail nataleda@westminster.edu.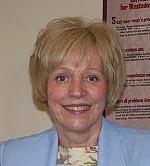 ---
Eight members of the Westminster College Model United Nations team participated in the first Model UN competition of the year at Mercyhurst College.
"The topic under debate was a resolution calling for global nuclear disarmament, an item on the agenda of the United Nations in New York this year," said Dr. Andrea Grove, assistant professor of political science and advisor to this group. "Thirty-eight students from several area universities participated, including Westminster College, Mercyhurst College, Lakeland College (Ohio), St. Bonaventure University (N.Y.), Indiana University of Pennsylvania, and the University of Pittsburgh."
Westminster College will host the next event Saturday, Oct. 8, from 10 a.m.-3 p.m. at the Sebastian Mueller Theater located in the McKelvey Campus Center. Attending this meeting are representatives from Mercyhurst College, the University of Pittsburgh, St. Bonaventure University, Lakeland College, Indiana University of Pennsylvania, and Westminster College.
"A model UN is a way for students to learn about the United Nations, contemporary international issues, multilateral diplomacy, how to see problems from various perspectives, and how to engage in role playing," Grove said.
Contact Grove at (724) 946-7254 or e-mail groveak@westminster.edu for more information.
---
Dr. Patricia Clark, Westminster assistant professor of history, recently served as a consultant for the College Board Advanced Placement Best Practices Course Study conducted by the Center for Educational Policy Research held at the University of Oregon.
"I was a document rater in the subject area of world history," Clark said. "This involved evaluating course materials such as syllabi and exams used in introductory world history courses at colleges and universities around the country to determine 'best practices' courses. Best practices courses are exemplary models in three areas: the topics and themes covered; the cognitive skills developed; and the teaching methods employed in the course. Outstanding courses covered world history topics and themes not only in breadth, but also in depth; taught a wide range of research and study skills; and utilized innovative teaching methodologies."
"The study's goal is to develop high school Advanced Placement courses that better reflect college curricula," Clark added. "Considering what constitutes an effective history course has helped me to reflect on my own teaching methods and course development."
Clark, who has been with Westminster College since 2004, earned her undergraduate degree from Michigan State University, and master's and Ph.D. from the University of Illinois.
Contact Clark at (724) 946-7248 or e-mail clarkpg@westminster.edu for more information.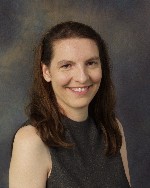 ---
Six Westminster College students performed in the annual Intercollegiate Choral Festival held at Bloomsburg University Oct. 27.
---
Dr. Russell E. Martin, assistant professor of history at Westminster College, will lecture Friday, Oct. 13 at the Kathryn W. and Shelby Cullom Davis Center for Russian Studies at Harvard University.
---
Displaying 891-900 of 5102 total records