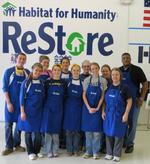 NEW WILMINGTON, Pa. - Eight Westminster College students and two staff members spent their winter break in the south serving others through organizations like Habitat for Humanity, a local shelter and a church.
---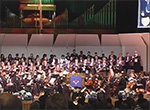 View the entire Christmas Vespers service.
NEW WILMINGTON, Pa. - Westminster College will continue a long-standing tradition with the presentation of a Christmas Cantata, "A Deo Daus (Given by God)," at Christmas Vespers at 3 p.m. Sunday, Dec. 8, in Orr Auditorium.  The service is open to the public.
---
Patricia Reilly Giff, a Newberry Award winning author, will speak at Westminster College Friday, March 26, at 1 p.m. in the McKelvey Campus Center Witherspoon Room.
Her presentation, "Writing¦The Story of My Life," will be followed by a book signing.
Giff is well known for two series of books that deal with friendship, "The Kids of the Polk Street School" and "Polka Dot Private Eye."  She is also the author of "All the Way Home," "The Gift of the Pirate Queen," and "Lily's Crossing," which was named a Newberry Honor Book, an American Library Association (ALA) Notable Book for Children, and a Boston Globe Horn Book Honor Book.  "Nory Ryan's Song" was named an ALA Best Books for Young Adults and an ALA Notable Children's Book.  Her book, "Pictures of Hollis Woods," is a 2003 Newbery Honor Book, an ALA Notable Book for Children, and an ALA Best Book for Young Adults.  Her most recent book, "Maggie's Door," has already won numerous awards.
The event, sponsored by the Westminster College Department of Education, is free and open to the public.  For more information, contact Dr. Amy Camardese, instructor of education and coordinator of the event at Westminster College, at (724) 946-7183 or e-mail camardah@westminster.edu.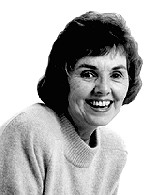 ---
Joyce Hoellein, lecturer of education at Westminster College, concludes the fall sessions of Faculty Forum Wednesday, Dec. 8, at 11:45 a.m. in the Sebastian Mueller Theater located in the McKelvey Campus Center.
 Hoellein's topic, "What Math Are You Teaching My Child/Grandchild," examines the questions: What changes in math instruction have occurred since you were in school?  What does it mean that children are being taught in a problem solving approach, with manipulatives, literature and writing?  Would I even recognize an elementary math classroom now? What exactly are math standards?
 Hoellein, who has been with Westminster College since 1994, earned her undergraduate degree from West Virginia Wesleyan College, and her M.Ed. from Edinboro University.
 The event is free and open to the public.  For more information, contact Hoellein at (724) 946-7185 or e-mail hoellej@westminster.edu.
Faculty forum, established in 1990, serves as a venue for the exchange of ideas and information among Westminster College faculty.  Speakers present their research, teaching ideas, lectures, performances, special programs, and uses of technology to keep faculty informed about the work of colleagues from many disciplines.
---
Thirty Westminster College students and two faculty members arrived in England to begin a semester abroad studying at Pembroke College, part of Oxford University. Instead of living in dormitories, students are living with host families among the outskirts of the city to experience British culture.
The students are taking a variety of courses ranging from travel writing to modern philosophy. The majority of the classes will be taught by Westminster professors Dr. David Goldberg, assistant professor of philosophy, and Dr. James Perkins, professor of English. The course "Britain in the 20th Century" is taught by an Oxford professor.
Upon arriving, the students received a walking tour of Oxford, which included three of the main colleges and many historic landmarks. Unlike a typical American college campus, Oxford University is a collection of 39 individual colleges that form the University as a whole.
This study abroad program is a first for Westminster. Students pay their Westminster tuition and have classes with other Westminster students. The program also includes weekend trips to London, Bath and York, plus many optional trips students can select. A mid- semester break will allot them the opportunity to explore the rest of Europe.
These students have the unique opportunity to experience the British culture through their host families who can also take them to different events throughout the city. They also interact with other British students through college activities, such as rugby games, dance classes, or cricket lessons.
The scholars are experiencing the culture daily by walking through the city and relying on public transportation.
"It's reliable and expeditious," said James Sharcot, a junior business administration and economics major. "The operators are generally pleasant too. It is a big transition, but it's one of the easiest to make here. I prefer walking to enjoy the scenery, but that's really an option because of the distance. There are a variety of restaurants serving food from multiple cultures such as American, Indian, and Chinese. Host families prepare traditional British meals for the students nightly like quiche, jacket potatoes and steak pie."
Jessie Goldie, a sophomore political science major, said, "I was pleasantly surprised with the food; it's really delicious! The main courses consist of the same type of meat in the United States, but it's prepared differently and always much better. And yes, I have tried afternoon tea."
Written by Ashley Beaver, a sophomore exploratory major from Sidman; Janis Butcher, a senior Christian education major from Liverpool, N.Y.; and Kerri Campbell, a sophomore business administration major from Coraopolis.

---
Dr. John Robertson, assistant p;orfessor of biology at Westminster College, recently gave two presentations at the Federated Society of Experimental Biology meeting held in San Francisco.
"The poster, "Investigating Permeability Using Fish Gills," represents work designed to adapt and apply a research technique for use in an undergrad course laboratory setting," Robertson said. "This poster was presented in the Teaching, Learning, and Testing in the Biological and Biomedical Sciences session."
"The poster, "Effects of Amphotericin B on Gill Water Pereability," was part of the Osmotic and Ionic Regulation poster session," said Robertson. "This describes some original work done here at Westminster that involves investigating cell and tissue permeability - a fundamentally important physiological parameter.
"This second poster was co-authored by a Westminster undergraduate, Nanette Tomicek, who was able to attend the meeting and presented the poster in two venues (the poster session listed above as well as a special undergraduate research session sponsored by the American Physiological Society). The experience was valuable for Nanette, who was able to gain insight into the 'culture' of academic research science. She is planning on attending grad school in physiology, and this experience should prove to have very practical benefits in her continuing education."
"My attendance and presentations at the meeting were supported by the Westminster Faculty Development Conference Fund, and Nanette was supported by the Drinko Center for Excellence in Teaching and Learning and the Westminster College Student Government Association," Robertson added.
"The research grants for projects and creative activities must be conducted under the mentorship of Westminster College faculty," said Dr. Virginia Tomlinson, director of the Drinko Center for Excellence in Teaching and Learning at Westminster College. "Funding may include supplies, equipment, travel to libraries and data sources, and travel to make presentations. In order to apply for research support, the student must have a research proposal completed as a degree-seeking student at Westminster College, and be in good academic standing."
North Apollo, PA
Nanette Tomicek is a daughter of Donald and Stephanie Tomicek. Tomicek, a senior biology major, is a graduate of Apollo-Ridge High School. The title of her research is "Effects of Amphotericin B on Gill Water Permeability," and she was advised by Dr. John Robertson, assistant professor of biology.
"Fish gills are an intriguing system in which to examine barrier epithelial function and physiological exchange; regulation of the movement of water, ions, and other substances are primary gill functions. Freshwater fish face large inwardly-directed osmotic gradients across interfacial exchange surfaces. Fish have been found to have high gill plasma membrane cholesterol content, suggesting barrier membrane composition may act in restricting gill water permeation. Amphotericin B is a polyene macrolide antibiotic that acts by binding to membrane sterols, forming pore complexes which compromise membrane integrity. We hypothesized that a mphotericin B would form pore complexes with cholesterol in gill barrier membranes, disrupting membrane function and enhancing water influx. The concentration-dependent effects of amphotericin B on osmotic water uptake were examined for two species of freshwater fish. Excised gill arches were incubated in either control or amphotericin B-containing solutions and water permeability was quantified as gill arch weight gain over time," writes Tomicek.

Contact Robertson at (724) 946-7044 or e-mail robertjc@westminster.edu; or e-mail Tomicek at tomicenj@westminster.edu for more information.
---
Dr. T.J. Arant, executive director of the East Central Colleges (ECC), will conclude the Westminster College Faculty Forum, Wednesday, May 1, at 11:45 a.m. in Patterson Hall room 311.
---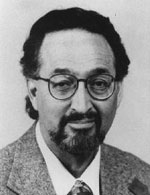 Dr. Ricardo L. Garcia, noted author and educator, will speak Thursday, Oct. 19 at 7:30 p.m. in Russell Dining Hall.
---
The Westminster College Student Government Association recently gave three awards for outstanding service and commitment.
Russell Mills, a junior political science and broadcast communications major from Pittsburgh, was awarded the "Senator of the Year" award for his outstanding service.  Mills is a son of Russell and Patricia Mills, 3332 Spring Garden Road, and a graduate of Shaler Area High School.
---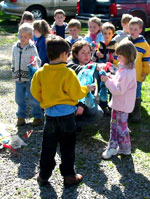 Sandra May Edmiston died in a rock climbing accident near Moose, Wyoming on August 1, 2005 and the world has not been the same since. She left a big void that others will have to work at filling. We are trying hard to do that at the Field Station . . . and we need help.
Sandy had enjoyed the Pacific Northwest in an internship for the summer of 2003 in Olympic National Park and, as usual, made friends wherever she went. Two of them, identified as Lynne and Bill, wrote this in an Internet blog dedicated Sandy's life: "I believed in her power to save the world, and the manner of her death reminds me of the nurturing arms of mother earth, reaching out to the child she loved. Too soon, too soon. We will miss her always."
---
Displaying 891-900 of 5190 total records