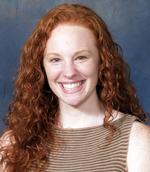 NEW WILMINGTON, Pa. - Erin Smith, director of library services and associate professor, will present at the Faires Faculty Forum Wednesday, Jan. 30, at 11:40 a.m. in the Sebastian Mueller Theater of the McKelvey Campus Center.
---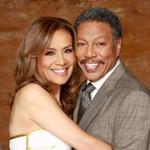 NEW WILMINGTON, Pa. - The Westminster College Celebrity Series will present Marilyn McCoo and Billy Davis Jr. - A Christmas Celebration at 7:30 p.m. Monday, Dec. 16, in Orr Auditorium.
---
Two Westminster College students, Lauren Garcia and Ashley Rexrode, will perform a joint piano recital Saturday, Dec. 4, at 5:30 p.m. at Orr Auditorium.
 Their program ranges from the Baroque works of J.S. Bach to the contrasting 20th Century sonorities and harmonies of Debussy.  This concert is comprised of works that portray the passionate styles of various composers.  They will be performing the solo works of Bach, Mozart, Robert Schumann, Chopin, and Debussy, and a suite for piano four-hands by Debussy.
  Lauren Garcia, a senior music education and Spanish major, is a daughter of Charles and Mary Garcia, Aliquippa, and a graduate of Beaver Valley Christian Academy.   She has studied piano for over 16 years, during which she has performed numerous times and done various accompanying works.  Garcia has performed throughout the United States and Italy as a member of the concert choir and chamber singers.  She has recently completed a semester at the University of Salamanca in Spain.  Her academic honors include the National Dean's List, the College's Dean's List, honor societies Pi Sigma Pi and Omicron Delta Kappa.
 Ashley Rexrode, a senior music education major, is a daughter of the Rev. Dale and Linda Rexrode, Farmington, and a graduate of Lighthouse Christian Academy. She has studied piano for 16 years, and teaches students both at home and with the Westminster College Music Intern Teaching Program.  Rexrode is a member of the Women's Chorus and the Concert Choir, and has served as accompanist for the Chamber Singers.  She is also a member of the the Pennsylvania Collegiate Music Educator's Association (PCMEA) and the American Choral Directors's Association (ACDA).  She has been on the National Dean's List, the Westminster College Dean's List, and is a member honor society Pi Sigma Pi and Kappa and educational fraternity Kappa Delta Pi.
 The music will be played on the model "D" concert grand Steinway, the largest piano that Steinway makes, that was given by the extended Mansell family in memory of Margaret Louise Young Mansell.  Margaret and her husband, Thomas V. Mansell, are both 1929 Westminster College graduates and long-time New Wilmington residents.
 The event is free and open to the public.  For more information, contact the Westminster College Department of Music at (724) 946-7270.
---
Dr. Joel Speerstra, a senior researcher at the Göteborg Organ Art Center in Sweden (GOart), will present a pedal clavichord concert Saturday, Oct. 8, at 5 p.m. in Orr Auditorium.
"Clavichords were the most common keyboard instrument in homes from the Renaissance until the 19th century," said Dr. Elizabeth Harrison, assistant professor of music and Westminster College organist. "The program will focus on the works of Johann Sebastian Bach, as Bach may have played them on the pedal clavichord.
"The instrument that Speerstra will use is borrowed from a private instrument collection in the area, and was built by Speerstra at the GOart," Harrison said. "It's modeled after the only surviving 18th century clavichord with two manuals and pedals, known as the Gerstenberg clavichord, which is currently housed in the instrument museum in Leipzig, Germany."
While at Westminster College, Speerstra will also teach a master class for Westminster students.
Speerstra is active as an instrument builder, performer, musicologist, lecture-recitalist, editor, author, and educator. After graduating from Oberlin Conservatory, he received both a Watson Scholar and a DAAD Fellow, allowing him to study organ and clavichord with Harald Vogel at the North German Organ Academy, and instrument building with John Barnes, the former Curator of the Edinburgh Russell Collection of Keyboard Instruments. His doctoral project at Göteborg University led to the re-construction of the pedal clavichord used in this performance. Speerstra is a faculty member of the Göteborg International Organ Academy, the Leufsta bruk Organ Academy, the Smarano International Organ Academy, and has taught at the School of Music in Göteborg and the Eastman School of Music. He is the author of numerous articles and the editor of the North German Organ Research Project in Göteborg, and has given lecture-recitals for the British, German, and Boston Clavichord Societies, as well as the International Clavichord Symposia in Magnano, Italy.
The concert is free and open to the public. Contact Harrison at (724) 946-7024) or e-mail harrisea@westminster.edu for more information.

---
The Westminster College Orchestra will present a spring concert Sunday, May 7, at 3 p.m. in Orr Auditorium.
Under the direction of Jonathan Moser, the orchestra will perform Ravel's "Alborada del Gracioso" and Beethoven's Symphony No. 6 in F major op. 68, "The Pastoral." The orchestra program features concerto/aria competition winners: Lindsey Byers, a junior music education major from Clarence, N.Y., singing in Verdi's "Stride la vampa!" from Il Trovatore; and Kimberly Hasara, a freshman music performance major from Pittsburgh, singing in Mozart's "Una donna quindice anni" from Cosi Fan Tutti.
The event is free and open to the public. Contact the Westminster College Department of Music at (724) 946-7270 for more information.
---
The Westminster College Men's Choir and Women's Choir will perform Monday, Nov. 12, at 7:30 p.m. in Wallace Memorial Chapel.
---
The Westminster College Mortar Board is sponsoring a book drive for the "Reading is Leading" project through Nov. 1. Two collection boxes, outside of the Preschool Lab in Hoyt Science Resources Center and in the Chapel Office on the third floor of Old Main, are available on campus.
---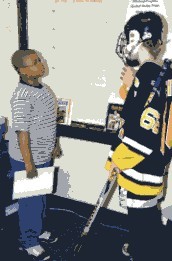 History and math were brought to life for 18 Musser Elementary third-graders during a recent visit to Westminster College.
Student teacher Jennifer Wood, a senior elementary education major from East Liverpool, Ohio, took her class to visit Westminster to take part in a special project designed by junior elementary majors to integrate social studies and mathematics.  In this project the Westminster juniors dressed up as a famous person in history, gave Musser students some facts about their character, and then worked on mathematical problems using those facts.
---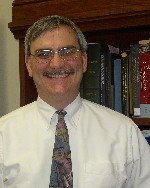 Dr. Timothy Cuff, Westminster College assistant professor of history, had his article, "Anthropometric History: What is It and What Can It Tell Us About Antebellum Pennsylvania," published in Pennsylvania History: A Journal of Mid-Atlantic Studies.
---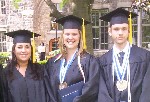 Every Westminster College molecular biology major from the Class of 2007 will be attending graduate or medical schools in the fall. In recent years, Westminster College graduates have been accepted into medical schools at double the national average.
---
Displaying 891-900 of 5278 total records