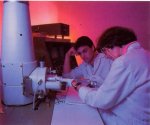 The Westminster College Biology Department will honor
Dr. Monika Becker
, professor of biology emerita, during a ceremony to dedicate the "Monika Becker Electron Microscopy Suite"
Thursday, May 16
, at
5 p.m.
in
Hoyt Science Resources Center.
"The suite houses the department's two electron microscopes: a Zeiss 109 transmission electron microscope, and a JEOL 35-CF scanning electron microscope," said Dr. Ann Throckmorton, associate professor of biology and chair of the department at Westminster College.  "These sophisticated instruments, unique for institutions the size of Westminster College, are used by students and faculty in their courses and research."
Displaying 841-850 of 5326 total records