The Westminster College Student Government Association recently gave three awards for outstanding service and commitment.
Russell Mills, a junior political science and broadcast communications major from Pittsburgh, was awarded the "Senator of the Year" award for his outstanding service.  Mills is a son of Russell and Patricia Mills, 3332 Spring Garden Road, and a graduate of Shaler Area High School.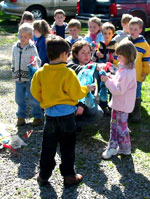 Sandra May Edmiston died in a rock climbing accident near Moose, Wyoming on August 1, 2005 and the world has not been the same since. She left a big void that others will have to work at filling. We are trying hard to do that at the Field Station . . . and we need help.
Sandy had enjoyed the Pacific Northwest in an internship for the summer of 2003 in Olympic National Park and, as usual, made friends wherever she went. Two of them, identified as Lynne and Bill, wrote this in an Internet blog dedicated Sandy's life: "I believed in her power to save the world, and the manner of her death reminds me of the nurturing arms of mother earth, reaching out to the child she loved. Too soon, too soon. We will miss her always."
Displaying 741-750 of 5034 total records