Westminster College and Sodexho recently unveiled the renovated McGinnis Dining area. The all-you-care-to-eat buffet restaurant gives students an alternative to the TUB food-court in the McKelvey Campus Center.
This week's grand opening specials include: buy four meals and get the fifth free; crab leg fest and General Tso's; a Chinese auction; and Guest Chef Night.
"The dining and service areas were completely remodeled," said Jeff Creveling, general manager of the Sodexho Dining and Catering Services to Sodexho Campus Services at Westminster College. "McGinnis is an 'all-you-care-to-eat' student restaurant."
The 4,300 square-foot dining area was completely refurbished with a new ceiling, floor, window treatments, and new furniture that include a combination of booth seating, high-top seating, and traditional tables. The new service and menu stations include Hot Entrees, Made to Order Deli, Grill, Pizza, and Red Hot Chef, an exhibition cooking area.
The total cost of the renovation, over $400,000, was provided by Sodexho, which has been operating the dining services at Westminster for over 35 years.
McGinnis is open for lunch and dinner Monday through Friday and brunch on Saturday and Sunday.
Contact Creveling at (724) 946-6312 or e-mail creveljs@westminster.edu for more information.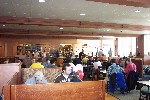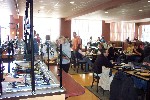 Dr. Mandy Medvin
, associate professor of psychology and Gibson-Drinko Distinguished Chair of Psychology, recently presented a paper at the International Federation for Information Processing in Manchester, England.
Medvin was invited to present the paper, "Using Technology to Encourage Social Problem Solving in Preschoolers."   The paper is a joint effort written by Medvin, Diana Reed, and Deborah Behr, both preschool teachers at the Westminster College Preschool Lab.  The paper outlines the joint project between the Westminster College Preschool Lab and Head Start of Lawrence County, which seeks to develop techniques encouraging social collaboration among children while using computers.
Displaying 4521-4530 of 6104 total records