Dr. Amy Camardese, assistant professor of education, and Bonnie Van Bruggen, director of disability support services, recently presented their research at the Council for Exceptional Children national conference in Baltimore.
"My presentation, Working with Asperger's Syndrome at a Small College,' addressed the need to learn more about students with Asperger's Syndrome and how they are supported in college," Camardese said.  "The demonstration session profiled Rob's first visit to the campus, his fixation on fantasy, social difficulties, academic concerns, and the awareness of his disability.  In addition, issues that support services needed to organize and coordinate, such as tutors, job coaches, and education of the faculty was shared."
"In the past ten years the number of students with Asperger's Syndrome has increased 370 percent. Students with Asperger's Syndrome are often very intelligent, but have difficulty with social skills and the ability to interact with others," Camardese wrote.  "The second year I worked with Rob, I decided to try an independent study that required my supervision.  Each week Rob had to read a journal article related to Asperser's Syndrome and summarize the article in a one-page paper.  The independent study resulted in an awareness and acceptance of his disability."
"I spoke on the subject of discriminating when students with these disabilities are most likely to succeed at college, what kinds of programs or accommodations would most likely be offered or not offered, alternatives to college, or when more remediation or transitional treatment or preparations would be recommended before the student begins college," Van Bruggen said.
Camardese, who has been with Westminster College since 2001, earned her undergraduate degree from Ohio University, her master's from the University of Pittsburgh, and her Ph.D. from Kent State University.
Van Bruggen, who started at Westminster in 2004, earned her undergraduate degree from the University of Oregon and her master's from the University of Iowa.
Contact Camardese at (724) 9467183 or e-mail camardah@westminster.edu or Van Bruggen at (724) 946-7192 or e-mail vanbruya@westminster.edu for more information.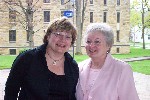 ---
The Jake Erhardt International Film Series continues with Cinema Paridiso Tuesday, April 4, at 7 p.m. in the Sebastian Mueller Theater
located in the McKelvey Campus Center.
"This 1989 film, set in post World War II Italy, is one of my personal favorites," said Dr. Deborah Mitchell, associate professor of English and public relations and series coordinator. "The story explores the friendship between a young boy who loves movies and the cranky old projectionist who works in the town theater. This film has absolutely wonderful performances and screenplay. It won an Oscar for Best Foreign Language Film."
The International Film Series is named in honor of its founder, Dr. Jacob Erhardt, professor emeritus of German at Westminster College. Erhardt, who taught at Westminster from 1968 until his retirement in 2004, served as chair of his department from 1970-1986, was named the Language Educator of the Year by the Pennsylvania State Modern Languages Association, translated into English Robert Reitzel's Adventures of a Greenhorn, and was recognized by the National Endowment for the Humanities as an outstanding member.
The event, which is part of a ten-film series, is free and open to the public
Contact Mitchell at (724) 946-7030 or e-mail dmitchel@westminster.edu for more information
---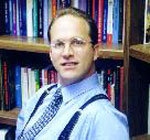 Dr. Jeffrey Kripal, former professor of religion at Westminster College, will speak at Honors Colloquium Tuesday, Sept. 30, at 6:30 p.m. at the Witherspoon Lakeview Room of the McKelvey Campus Center.
---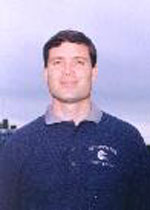 Jerry Schmitt, head football coach Westminster College, will give his "Last Lecture" Tuesday, Feb. 20, at 4 p.m. in Walton-Mayne Union Lounge.
---
Dr. Patrick McCarthy, professor of biology at Westminster College, continues its sesquicentennial celebration with the fourth in the seven-part series of biology seminars, "The Genetics All Star Team," Thursday, Sept. 12, at 7 p.m. in Phillips Lecture Hall.
---
Five Westminster College students will give a saxophone recital Sunday, Oct. 8, at 3 p.m. in Wallace Memorial Chapel. The concert is free and open to the public.
---
Theatre Westminster will present Love Among the Russians Thursday-Saturday, April 19-21 at 7:30 p.m. and Sunday, April 22, at 2:30 p.m. in Beeghly Theatre.
---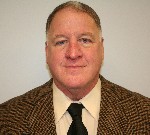 William Brandt, former site supervisor in Westminster College's Department of Public Safety, was promoted to Director of Public Safety.
---
Westminster College admissions staff will be visiting local high schools the week of Sept. 29.
---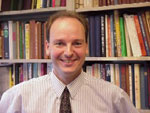 Dr. Russell Martin, Westminster College associate professor of history, presented "Kalliste(i): Bride-Shows and Marriage Politics in Muscovy, 1505-1689" at the Early Slavic seminar April 10 at Harvard University's Davis Center for Russian Studies.
---
Displaying 4531-4540 of 5573 total records