Six Westminster College students were awarded master of education degrees in December.
---

Westminster College students in the auditing class taught by Jesse Ligo, Westminster associate professor of accounting and 1982 Westminster graduate, visited the New Castle office of Carbis Walker Sept. 17.
---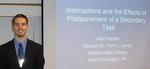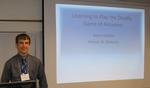 Westminster College seniors Neil Pilarski and Aaron Zavora presented the results of their capstone research at the 2011 Penn State Behrend Sigma Xi Undergraduate Research and Creative Accomplishment Conference April 16.
---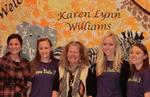 Westminster College will host children's book author Karen Lynn Williams for a presentation and book signing Tuesday, Feb. 7, at 7 p.m. in Wallace Memorial Chapel.  The program is free and open to the public.
---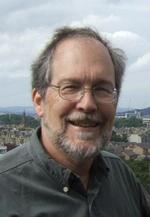 NEW WILMINGTON, Pa. - Dr. David Cushman, Westminster College Captain William McKee professor of economics and business, published an article in the September issue of the online journal Econ Journal Watch.
---
NEW WILMINGTON, Pa. - Eleven students have been added to the Spring semester's lists of accomplishments at Westminster College.
---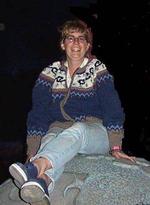 The Westminster College Field Station will dedicate the Margaret "Meg" Rankin Memorial Garden and Nursery Saturday, Oct. 4, at 3 p.m.  The event, at 937 Fayette-New Wilmington Road, is open to the public.
---
Dr. Russell Martin, associate professor of history at Westminster College, will present "Power, Legitimacy and Remembering the Royal Dead in Muscovy" Wednesday, Sept. 29, at 11:45 a.m. in the Sebastian Mueller Theater in the McKelvey Campus Center.
 "My research explores the way official commemorations of royalty were manipulated by the new regime to suggest that the new dynasty, the Romanovs, were the legitimate heirs of the old dynasty," Martin said.  "I found new sources that demonstrate rather starkly how tenuous and uncertain Romanov rule was in its first decades, despite the later histories that would have us believe, falsely, it seems, that the Romanovs came to power by 'divine right.'"
Faculty forum, established in 1990, serves as a venue for the exchange of ideas and information among Westminster College faculty.  Speakers present their research, teaching ideas, lectures, performances, special programs, and uses of technology to keep faculty informed about the work of colleagues from many disciplines. 
Martin appeared on A&E Biography in a broadcast on Ivan the Terrible as an expert on the controversial ruler, and has been an expert witness in a Canadian civil trial about the Russian royal family.  He is the co-founder of the Muscovite Biographical Database, a Russian-American computerized register based in Moscow of early modern Russian notables.  The Neville Island, Pa. native is not only fluent in Russian, but also reads Old Church Slavonic/Russian, French, German, Latin, and Polish.
Martin, who has been with Westminster College since 1996, earned his bachelor's degree from the University of Pittsburgh, and his master's and Ph.D. from Harvard University.
For more information, contact Martin at (724) 946-6254 or e-mail martinre@westminster.edu.
---
Westminster College presents saxophonist James Flowers and pianist Dr. Nancy Zipay DeSalvo in concert Monday, April 25, at 7:30 p.m. in Orr Auditorium.
The program includes Boutry's "Divertimento," Bach's "Sonata in A Minor," Creston's "Sonata," and Ibert's "concertino Da Camera."
Flowers, a native of Hermitage, is a freelance artist and teacher in the Cleveland-Pittsburgh area.  He earned his undergraduate degree from Youngstown State University and his master's degree from Bowling Green State University.  James is a member of the award-winning Bohica Saxophone Quartet, recently renamed Meta4, who won first place at the Music Teacher's National Association Chamber Music Competition and the Coleman National Chamber Music Competition.  He has also toured with the Tommy Dorsey Orchestra and performed with Ben Vereen, Mary Wilson from the Supremes, Martha and the Vandellas, The Fifth Dimension, Cleveland Fats, and the Carmen Mico Big Band.
DeSalvo is an assistant professor of music at Westminster College and chair of the department, where she teaches piano and music theory, and performs various solo recitals. She earned her undergraduate degree from Youngstown State University, her master's from the Manhattan School of Music, and her D.M.A. from The Cleveland Institute of Music.  DeSalvo performs as pianist with the Amici Trio and the Youngstown Symphony Orchestra.  She has also been a guest soloist with the Hong Kong Philharmonic Orchestra.  She was added to the distinguished international roster of  Steinway Artists in 2002.
The event is free and open to the public.  For more information, contact DeSalvo t (724) 946-7023 or e-mail desalvnj@westminster.edu.
---
Theatre Westminster will present Agatha Christie's "And Then There Were None" Thursday-Saturday, March 2-4, at 7:30 p.m. and Sunday, March 5, at 2:30 p.m. in Beeghly Theater located in Patterson Hall.
"This murder mystery is written by one of the greatest mystery writers of all time," said Eileen Hendrickson, visiting instructor of theatre at Westminster College. "The plot centers around ten guests who come to a remote island and the ten slowly shrivel away until the puzzle is solved."
To reserve tickets, call the Beeghly Box Office at (724) 946-7241 and leave a message with your name, number of tickets, and preferred date. Adults tickets are $7; non-Westminster students and senior tickets are $5.
Contact Hendrickson at (724) 946-7237 or e-mail hendriee@westminster.edu for more information.
---
Displaying 4561-4570 of 6117 total records