The College Democrats, The College Republications, and the Green Party have all been busy on the Westminster College campus.
Westminster students have learned about politics through participating in the Mock Convention since 1936.  Thomas V. Mansell, a 1929 Westminster graduate who returned to teach at the College in 1933, founded the convention.  It is held every four years for the party that is currently out of power, and involves nearly 1,000 Westminster students.
 It only took two weeks after their arrival on campus for the student party to organize voter registration tables.
 "Together we registered about 60 voters, which I would say is around the same as last year," said senior Jessica Rummel, president and founder of the College Republicans.  "The most popular request is an absentee ballot, which shows that most students are already registered at Westminster."
 "Last year I wrote the constitution and got about 10 or 15 members to join," said senior Greg Smith, president and founder of the College Democrats. "Now there are 63 members."
 "This year we registered about a dozen students," said Colby King, a sophomore interdisciplinary major from Slippery Rock and member of the campus Green Party.  "We didn't just register Greens, but all parties."
 Summer was also a busy time for Westminster's politically active students.
 "I earned the honor of speaking at the Democratic National Convention through an essay contest," said Steven Ruperto, a freshman political science and economics major from Moon Township.  "I was chosen one of the 10 finalists from over 400 entries, and then my essay was put online so that the public could vote.  It was an incredible experience being up on the podium with other speakers.  I was fortunate to meet people like Gephardt, Dean, and even Ron Regan Jr."
 "This summer I worked for my uncle, Pennsylvania State Senator Corman in Bellefonte near where I live," said William Sieg, a junior political science major from Mingoville.  "I was a constituent action person.  I got to talk to people about their personal issues and point them in the right direction."
 "I also volunteered for the Republication National Convention, where I stood near the entrance and guided people and answered questions," Sieg continued.  "It was a great experience"¦seeing democracy in action." 
 "I worked for the Republican National Committee this summer as a research intern," said Andrea Caplecci, a senior political science major from Hubbard, Ohio.  "I compiled stats that were used in press releases and speeches.  It's so different being in Washington where everyone knows what's going on in the world."
 "I went to the Green Party National Convention this year," said King.  "I also interned for Dennis Kucinich and went to knock on doors in Iowa during their primary."
 
 The reasons vary about why these political campus leaders became interested in national politics.
 "I was always fascinated with the federal government, and wanted to be involved," Ruperto said.  "My parents always watched the news and encouraged me to know what was going on and to be active.  They never were active in politics, but they never missed a chance to vote."
"I grew up around politics.  In addition to my uncle, my grandfather was also a state senator," Sieg said.  "I want to be a lobbyist."
 "I started as a journalism major, and got involved in current events," said Caplecci.  "I wanted to do something that matters, so I changed to a political science major."
 "My father is a CNN addict," Rummel said.  "I try to follow his example, and keep up with what is going on in the world."
 "I was inspired to get into politics my senior year in high school," Smith said.  "I was inspired by my high school political science teacher.  I was a member of a group called, 'We the People' who won a state competition and went to nationals."
 "I don't think most of our members vote because of service records or economics, although a few might," said Dr. Dwight Castro, professor of classics and adviser to the College Republicans.  "I think most college students join a political party because of their beliefs in various social issues."
 "I am a member of the Green party because the interests of the party are also mine," said King.  "It's what democracy is all about"¦knowledge and ideas you believe in even if you know you're not going to win."
 A mock debate representing the Democrats, Greens, and Republicans is scheduled Oct. 26 at the Berlin Student Lounge. 
 
  The political season will conclude at Westminster, Wednesday and Thursday, Oct. 27-28 when the Pi Sigma Alpha, Westminster's political honor society, will hold a mock election at the Orchard Street Café located in the McKelvey Campus Center.
 "The election will be conducted by paper ballot, and students must present their Titan card to vote, so that they can only vote once," said Rummel.  "Students will have one color ballot, while the faculty, staff and administration will have another.  That way we can tell how students voted and how the college staff voted.  The winner will be announced on the front page of the Holcad, Friday, Oct. 29."
 
 "The entire campus will be sent the results about a day before the actual election," Rummel said.  "Bush, Cobb, and Kerry will be the only people on the ballot.  We are also separating the faculty/staff vote from the student vote to see the differences in political preference."
  
 For more information about Westminster's political science program, contact Dr. James Rhoads, Jr., associate professor of political science, at (724) 946-7255 or e-mail jrhoads@westminster.edu.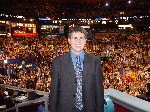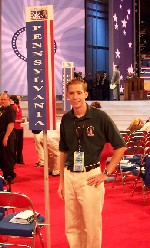 Dr. John Bonomo, associate professor of computer science at Westminster College, recently returned from Shanghai where he judged the 29th annual ACM ICPC World Finals sponsored by IBM.
The contest was hosted by Shanghai Jio Tong University at the DuDong Shangri-La Hotel.  Seventy-five teams competed from nearly 1,500 universities in over 70 countries, who fielded over 3,800 teams at over 130 sites during regional competitions.
Bonomo also had a problem accepted for this competition.  "The problem of mine turned out to be the third-hardest problem, being solved by only three or four teams," Bonomo said.  "Once you get a problem selected, you are actually assigned a different problem to judge during the contest.  The problem I judged turn out to be the one with the most submissions from the teams, so I was busy from the start to the end of the contest."
Bonomo was a regional judge for the five years.  He has been an international judge four times -- in Hawaii, Los Angeles and last year at Prague, Czech Republic. 
Bonomo, who has been with Westminster College since 1998, earned his undergraduate and master's degree from Catholic University, and a master's and Ph.D. from Purdue University.
Contact Bonomo at (724) 946-7287 or e-mail bonomojp@westminster.edu for more information.
Westminster College Planetarium presents "Journey to the Stars" Thursday-Saturday, March 30-April 1, at 7 p.m. in the Hoyt Science Resources Center room 116.
This program takes visitors on incredible journeys of discovery. One journey will start with dark interstellar gas drifting in the cold vacuum of space and end with seething whirlpools of gas surrounding a black hole. Another will examine amazing astronomical phenomena close to home and extend to fantastic galaxies, billions of light years away. A final journey will take us from great explorations of the past to endless possibilities for the future.
Along the way, the program will explore how we use the electromagnetic spectrum to learn about space, the birth and death of stars, the planets, distant receding galaxies, and discoveries from the Hubble Space telescope. Come to the planetarium and take a journey to the stars. The show will conclude with a survey of the current night sky.
The shows are free and open to the public, but because of limited seating, reservations are required. Contact the Westminster College Department of Physics at (724) 946-7200 between 8:30 a.m. and 3:30 p.m. for reservations or more information.