Written by Sandy Edmiston, a senior English major from New Wilmington, and Megan Sigler, a senior public relations major from Cranberry Township, for The Holcad.
The campus community has spoken in the tightest mock election race to date at Westminster.  Senator John Kerry has secured the vote of the college by a 49.4 percent majority, with President George W. Bush following closely behind by 45.7 percent.  Green Party candidate David Cobb won 4 percent of the votes, while independent Ralph Nader came in last with only .9 percent of the campus support.
College Democrats President Greg Smith, while pleased with Kerry's victory, was still surprised at the results.  "I honestly thought Bush would win."
The results represented 249 members of the campus community.  Students accounted for 210 of those votes, while 39 faculty and staff members made their voice heard in the election.
However, while Kerry may have won overall, the students and faculty remain divided on their decision.
If it were up to just the student body, Bush would have won the election.  Bush won the students' vote by 48.1 percent, a difference of only one vote. 
"If I did not vote, Bush and Kerry would have been tied," Jessica Rummel, president of the College Republicans, said.  "This goes to show you what a difference one vote can make."
Students have several reasons to vote in this year's election. 
Senior Ben Libert supported the majority vote for Kerry for family reasons.  "My mom has been laid off for a year. Four more years of Bush won't be getting my mom a job anytime soon."
Senior Nicole Patterson weighs personal values over economic issues. "One of the main issues for me is faith and abortion," she said. "How the candidates perceive those issues is how I look at the election.  Also, just the way they present themselves. Bush is more genuine with the stuff he says than Kerry is and that means a lot to me."
Not all students are so certain on which candidate they support.  Sophomore Jess Limpert admits that she didn't vote in the mock election.
"I still don't know who to vote for," she said. She does know what issues are important to her, however, citing education, financial help, and medical care as three of her main concerns.
Faculty and staff members were much stronger in their support for Kerry, who put their support behind the senator by a 59 percent majority.  This does not shock senior Russ Mills, who believes that the faculty and staff tend to vote more liberal.
Dr. Scott Mackenzie, assistant professor of theater, is one of the many Democratic faculty members who participated in the election.  "Everyone knows I'm a huge Kerry supporter," he said. "Actually, I'm really a big non-Bush supporter."
Republican faculty and staff, however, have made their voices just as clear.  Beth Brooks, secretary of student affairs, eagerly raised her hand in favor of Bush when the student affairs office was asked for its political persuasion.  "All I can say is that Jess Rummel and I are still hanging in there."
After the results of the mock election, is Brooks worried about Tuesday?  "Absolutely not," she said.  "Bush will win the election."
The mock election was sponsored by Pi Sigma Alpha, the political science honorary society, whose members encouraged the campus community to cast their votes on October 27-28 during lunch in the McKelvey Campus Center.
The mock election was preceded by a mock presidential debate on Tuesday evening, also sponsored by Pi Sigma Alpha. About 70 people attended Tuesday night, listening to candidates' responses to questions and asking some of their own.
Three students debated as presidential candidates. Senior Dennis Buffone spoke as Bush, senior Richard Marmura represented Kerry and sophomore Colby King portrayed Cobb.

While all three mock candidates differ politically from their fellow presidential nominees, all enjoyed the chance to discuss political issues. 
"I truly enjoy debating and talking about politics, especially with people like Dennis and Colby who are as passionate about it as I am," Marmura said. "I hope the debate provided a chance for those watching to see the distinct differences between the candidates and the issues."
King agrees with Marmura. "It was fun to participate in the debate. Dennis and Rich are great guys. The questions were interesting and the audience was attentive. It was also a great chance for people to understand where each party is on the issues. People have stereotypes of the Green party, and all the parties, that aren't necessarily true."
Buffone echoes similar sentiments.
"Too many times do people on both sides of the spectrum vote affected instead of informed," he said. "Being educated is not about accepting things at face value and basing your opinions on facts and evidence, not on rhetoric and circumstance. Again, both sides do way too much of that."
Rummel, who organized the debate, believes that a college education requires you to inform yourself about politics.
"I think more people are paying attention than before," Rummel said. "For all of us it's the first year of being in college during a presidential election. I think college forces you to pay attention.  There are still a lot of people who are uninformed, though."
For more information, contact Dr. James Rhoads, associate professor of political science at Westminster College, at (724) 946-7255 or e-mail jrhoads@westminster.
Dr. James Perkins, professor of English and chair of the Department of English and Public Relations at Westminster College, was recently named a "Kentucky Colonel" by Governor Ernie Fletcher.
"Five years ago, I began asking 'What are the plans for Robert Penn Warren's 100th birthday,'" Perkins said. "No one wanted to hear that question then, but they were happy to name me 'Special Program Chair for the Centenary" so I formed an advisory board. The chief thing most folks wanted was a United States postage stamp issued to honor Warren."
After reading the criteria and finding that Warren met them, Perkins wrote a letter to the Citizens Stamp Advisory Commission outlining Warren's qualifications and requesting a stamp be issued in his honor.
"They answered my letter saying that they would take the matter under advisement and assuring me that my part in the process was over, indicating I should wait patiently for their decision," Perkins said. "But I teach public relations and like to flash my skills from time to time. So with the help of a number of students, especially Eleanor Ludwig Milarski (a 2002 Westminster graduate from Pittsburgh) and Jon McKay (a 2002 Westminster graduate from Butler), I wrote letters to the senators and representatives of every state Warren lived in and to the presidents of every college he attended or taught in to ask for their support of the effort to get a stamp for Warren."
In Warren's hometown of Guthrie, Ky., the United States Postal Service introduced the 37-cent Robert Penn Warren commemorative stamp before a crowd of about three thousand, including Warren's son and daughter.
"In appreciation of the efforts of the members of the advisory board, The Center for Robert Penn Warren Studies asked the governor of Kentucky to commission us Kentucky Colonels," Perkins said. "As a native of Kentucky, I prize this award more highly than does the retired Air Force Colonel from Texas whom we now call Colonel Colonel."
Perkins has been researching Warren's life and works for a number of years and has been published numerous times.
In 2005 Perkins wrote "The Cass Mastern Material: The Core of Robert Penn Warren's 'All the King's Men,'" which was published by the Louisiana State University Press in March 2005.
"The most interesting thing that I got out of this book is a new interpretation of Warren's 'All the King's Men,'" Perkins said. "My research shows that the basic plot of the book has been misunderstood by critics for more than 50 years. Using genetic evidence derived from the descriptions of the major characters [Dr.] Patrick McCarthy (professor of biology at Westminster College) and I were able to eliminate Judge Irwin as Jack's Burden's father. It took me 10 years to write this book -- five to do the research and five to figure out what the research meant."
In 2000, he co-edited, along with James A. Grimshaw, Jr. "Robert Penn Warren's All the King's Men: Three Stage Versions." More recently he collaborated with Patrick McCarthy and Frank D. Allen, Jr. in writing "Human Genetics and All the King's Men; The Case of Jack Burden's Paternity" for Mississippi Quarterly. This volume is his first solo flight in book-length criticism.
Perkins, who has been with Westminster College since 1973, is also the chair of Westminster's Department of English and Public Relations. He earned his undergraduate degree from Centre College, his master's from Miami University, and his Ph.D. from the University of Tennessee. During the fall term of 1998, he was a Fulbright Visiting Professor at Seoul National University in Korea. He has also been honored as a Henderson Lecturer and McCandless Fellow. His publication also include three chapbooks of poetry; "For the Record: a Robert Drake Reader, a collection edited with Randy Hendricks; "Snakes, Butterbeans, and the Discovery of Electricity," a collection of short stories; and "Southern Writers at Centuries End," a collection of essays co-edited with Jeffrey Folks.
Contact Perkins at (724) 946-7347 or e-mail jperkins@westminster.edu for more information.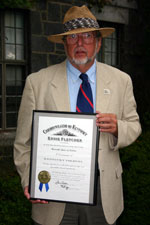 Dr. Andrea Grove, assistant professor of political science at Westminster College, will present "Understanding U.S. Foreign Policy Toward Pakistan: Why the War on Terror Fuels the Jihad" at Faculty Forum Wednesday, April 12, at 11:45 a.m. in the Sebastian Mueller Theater located in the McKelvey Campus Center.
"This presentation is based on a chapter in my forthcoming book about leadership in international relations," Grove said. "I will discuss how focusing on General Musharraf's leadership strategies allow us to see clearly that American foreign policy toward post-September 11 Pakistan is deeply misguided: The United States sees Pakistan's Musharraf as a key to fighting terrorism, but in fact Pakistan has become one of its central staging grounds."
Grove, who has been with Westminster College since 2000, earned her undergraduate degree from the University of Georgia, master's from Lancaster University, and Ph.D. from the Ohio State University.
Faculty Forum, established in 1990, serves as a venue for the exchange of ideas and information among Westminster College faculty. Speakers present their research, teaching ideas, lectures, performances, special programs, and uses of technology to keep faculty informed about the work of colleagues from many disciplines.
Contact Grove at (724) 946-7254 or e-mail groveak@westminster.edu for more information.