Mathematics and Computer Science Department Hosted Workshop for Local Girl Scouts
Posted on Friday, April 27, 2012
The Westminster College Department of Mathematics and Computer Science hosted a Scratch computer programming workshop April 14 for Mercer Area Girl Scouts.
Scratch, developed at MIT, is a programming language that allows users to create interactive stories, animation, games, music, and art and share them on the web.  Scouts at the workshop used Scratch to create an animated aquarium and a target game.
The workshop was directed by Dr. David Shaffer, Westminster associate professor of computer science, with assistance from Dr. Kathy Shaffer, chemistry instructor at Slippery Rock University, and Kate Shaffer, Mercer Area Elementary School student and one of the Girl Scout participants.
Contact Dr. David Shaffer at (724) 946-7292 or email for additional information.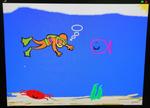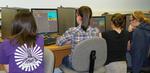 ---
More Stories