Spanish Lecturer Presented at National and International Conferences
Posted on Friday, April 27, 2012
Brenda Swart, Westminster College Spanish lecturer, presented at two conferences in March.
Swart presented "Transnational Activities as Precursors of a (Re)Affirmation of a National Identity in Santitos" at the XVII Congreso de Literatura Mexicana Contemporánea March 1-3 at the University of Texas at El Paso.  The paper examined how the reaffirmation of a national identity of the protagonist was presented in Santitos (Little Saints) by the author of the novel and in the film by the director.
She presented "What Vocabulary to Teach in an Introductory Business Spanish Class?" at the annual Centers for International Business Education and Research's Business Language Conference March 21-24 at the University of North Carolina.  The paper presented pilot research about the Spanish business vocabulary available in business textbooks for MBA students at the University of Pittsburgh and was conducted in collaboration with Carlos Ramírez of the University of Pittsburgh.
Swart, who joined the faculty in 2010, earned undergraduate and master's degrees from the University of Houston.
Contact Swart at (724) 946-7563 or email for additional information.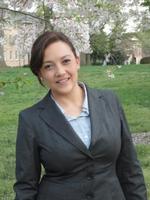 ---
More Stories