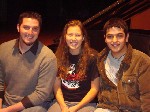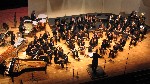 The Westminster College Wind Ensemble will present its Young Conductors concert Friday, Nov. 7, at 7:30 p.m. in Orr Auditorium. The concert is free and open to the public.
---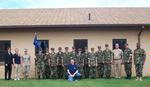 Dr. Helen Boylan, Westminster College associate professor of chemistry, and 2009 Westminster graduate Mallory Lichwa participated in a Homeland Security school in July at Camp Perry in Port Clinton, Ohio.
---
The Seraphim Community Chorus, under the direction of Westminster College adjunct music faculty Mr. Kris Harper, will present Mendelssohn's "Elijah, Op. 70" Sunday, April 11, at 2 p.m. at St. Michael's Roman Catholic Church in Canfield, Ohio. The concert is open to the public and a freewill offering will be collected.
---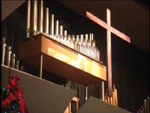 View the entire Christmas Vespers service. Please be patient while video loads.
Westminster College will continue a long-standing tradition with the presentation of "Something's Coming" at Christmas Vespers Sunday, Dec. 5, at 7 p.m. in Orr Auditorium. The public is invited to attend.
---
Westminster College senior molecular biology major Stephanie Woodward received an undergraduate research grant from Westminster's Drinko Center for Excellence in Teaching and Learning.
---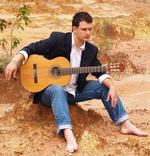 Westminster College will host classical guitarist David Sossa Fernández in concert Thursday, April 26, at 6 p.m. in McKelvey Campus Center's Witherspoon Maple Room.  The program is free and open to the public.
---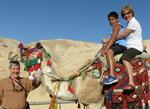 NEW WILMINGTON, Pa. - Dr. Charlene Klassen Endrizzi, Westminster College professor of education, recently wrote four blog posts for classroom teachers on the Worlds of Words (W.O.W): International Collection of Children's and Adolescent Literature website.
---
NEW WILMINGTON, Pa. - Westminster College's Young Presbyterian Scholars Program (YPS) will sponsor its 10th annual Global Gift Market from 10 a.m.-7 p.m. Wednesday, Dec. 4, on the second and third floors of the McKelvey Campus Center. The event is open to the public.
---
NEW WILMINGTON, Pa. " Nearly 100 door prizes, worth thousands of dollars, will be distributed during the second annual New Wilmington Area Business Expo on Saturday, March 13 from 10 a.m. to 4 p.m. at the Westminster College Memorial Field House.  The event is free to the public.
Each of participating business has donated a door prize to be given away at the event.  The door prizes run the gamut from equestrian lessons to pear trees and power tools.  Patrons can sign up at each booth for a chance to win the valuable prizes.
Last year's inaugural Business Expo featured booths from 55 area businesses and over 500 visitors packed the Wilmington High School cafeteria.  The larger Westminster College Field House provides room for 100 business booths and will allow patrons more room to see displays and browse.
"We are excited about the quality of the door prizes that will be given away and expect this year's Business Expo to showcase some of the great things available in our community." said New Wilmington Area Chamber of Commerce President Tim Kelly
The event is organized by the New Wilmington Area Chamber of Commerce and is intended to provide local businesses with one-on-one contacts and marketing opportunities.
Contact Anne Bruening (724-946-3300) or Betty Jones (724-946-8821) for more information or visit www.newwilmington.biz
---
Ryan Mistovich, a junior interdisciplinary major at Westminster College, recently had his photo accepted for the 68th "Area Artist Annual Exhibition Listing" at the Butler Institute of American Art in Youngstown, Ohio.
 The show, which runs through Nov. 28, features a photo Mistovich took of a shelf mushroom while getting used to his new Canon Rebel 35 mm camera for his class with Peggy Cox, professor of art at Westminster College.
 "The museum usually brings in a well-known art critic or artist to select the works for the exhibit," Cox said.  "Competition for a spot in the exhibit can be upwards of two hundred entries or more."
 Mistovich has no plans to become an artist or photographer, however.
 "First I wanted to be a doctor, but then I started looking at other options.  I want to go to dental school, but I never wanted to be a biology major," Mistovich said.  "Here [at Westminster] I can take enough science courses to get into dental school without being a biology major.  I've been playing an instrument since I was in fifth grade, and I've been taking photos for a long time, so I chose to make my own major of music and art.  It's what I enjoy, and I can still get into the graduate school I need to become a dentist."
 Mistovich gets his artistic talent from his parents, who are both art teachers. 
 "Both my dad and brother are in this show, too," Mistovich said.  "My brother has a photo, and my dad has this three-dimensional mixed media entry in the exhibit."
Mistovich is a son of Ron and Joyce Mistovich, Boardman, Ohio, and graduate of Boardman High School.
 For more information, contact Cox at (724) 946-7266 or e-mail pcox@westminster.edu.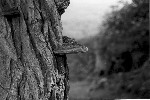 ---
Displaying 791-800 of 5149 total records