Departmental Awards, Honors, and Scholarships
Ron Bergy Accounting Scholarship
This is awarded to an outstanding accounting major who has completed at least 16 semester hours in accounting and intends to enter the accounting profession. Ron Bergy was Professor of Accounting at Westminster from 1962 until 2004.
Ann M. Kendlehart Scholarship
This is awarded for academic achievement and potential in students majoring in accounting, business, or economics.
Students must apply at the beginning of the spring semester.
Robert E. and Jane S. Lauterbach Academic Scholarship
This achievement-based grant is awarded to the outstanding junior majoring in the Economics and Business Department. This grant is not necessarily based on financial need. Robert E. Lauterbach was CEO of Wheeling-Pittsburgh Steel Corporation (now WSX Corporation) and President of the Board of Directors of Westminster College.
The Ronald B. and Emily P. Mackall Scholarship
This scholarship recognizes outstanding upper-class majors in the department who also participate in the campus fine arts opportunities. Ms. Mackall, a trustee as well as a graduate (Economics), served as professor and chair of the Department of Economics at Youngstown State (now Emeritus).
Bill Rankin Award
This scholarship recognizes a deserving, rising senior student who aspires to a career in human resources.
Samuel H. Sloan Memorial Scholarship
This recognition and scholarship is awarded to an outstanding junior majoring in the Department of Economics and Business. Mr. Sloan served Westminster College as Chair of the Department of Economics and Business during the 1960s. The Sam Sloan Scholarship was established in his memory.
David W. Edward Business Plan Scholarship
Awarded to one or more winners of a business plan competition held during spring semester.
School of Business Outstanding Senior
This recognition is awarded to the graduating senior who best exemplifies outstanding academic achievement and initiative.
Accounting Outstanding Senior - PICPA Award
This recognition is awarded to the outstanding senior majoring in accounting. The award is sponsored by the Pennsylvania Institute of Certified Public Accountants (PICPA) and was established at Westminster in 1978. The PICPA is the professional society for public accountants certified to practice in Pennsylvania.
John B. Fuoss Leadership and Scholarship Fund
Awarded to a current sophomore School of Business major with high academic achievement, strong leadership characteristics and commitment to extracurricular activities for use in their junior year, can be renewed for the senior year.
William C. Neely Free Market Business Award for Excellence
Awarded for outstanding academic and leadership skills, commitment to theprinciples of a free-marketeconomy and functional interests tending toward marketing and/or general management.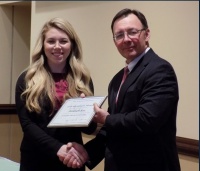 Learning Center Volunteers
Students are recognized for valuable campus community service and support.
School of Business Office Assistants
Students are appreciated for their exemplary effort and contribution to the department.