More than 100 students from area junior and senior high schools competed in the regional History Day competition at Westminster College March 31.
---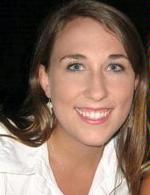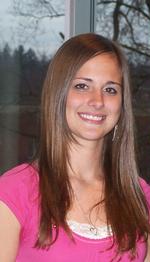 Two Westminster College senior mathematics majors presented papers at the 12th annual Nebraska Conference for Undergraduate Women in Mathematics Jan. 29-31 at the University of Nebraska, Lincoln.
---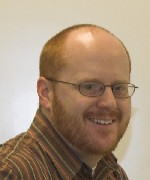 Dr. Peter Smith, Westminster College associate professor of chemistry, attended the national meeting of the American Chemical Society Aug. 23-25 in Boston.
---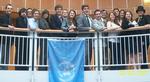 Westminster College hosted its third annual Model United Nations conference for high school students April 11.  With more than 250 students from 19 area high schools, this was the largest Model UN conference hosted at Westminster.
---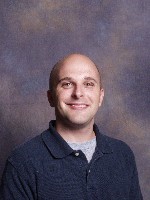 Dr. Jamie McMinn, Westminster College associate professor of psychology, authored "Understanding the Antecedents, Consequences, and Development of Morality in a Seemingly Immoral World," published in the February issue of the Journal of Social and Clinical Psychology.
---
NEW WILMINGTON, Pa. - Westminster College senior biology majors Melanie Perello and Amy Steinheiser received undergraduate research grants from Westminster's Drinko Center for Experiential Learning.
---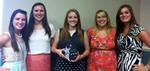 NEW WILMINGTON, Pa. - Four members of the Westminster College Alpha Sigma chapter of the national Sigma Kappa Sorority attended the organization's first Regional Leadership Conference (RLC) July 26-28 in Philadelphia, where they accepted the sorority's highest honor on their chapter's behalf.
---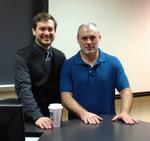 Westminster College alumnus Colin Dean '07 presented "Spinning Plates Atop Irons in the Fire: Keepin' It Real (Busy) after WC" to students and faculty in the Department of Mathematics and Computer Science Oct. 21.
---
The Westminster College Jazz Ensemble and the new Faculty Jazz Combo kick off the concert year Friday, Oct. 8, at 7:30 p.m. in the McKelvey Campus Center Club Room.
 "The Faculty Jazz Combo was officially unveiled at last year's final jazz concert, and they were an instant success," said Dr. R. Tad Greig, director of bands at Westminster College.  "We are fortunate to have such fine musicians on our adjunct faculty."
 The Faculty Jazz Combo consists of Jeff Wachter on the piano, Mark Antonich on the guitar, Jeff Bremer on the bass, Perry Gatch on the drums, and Andy Erb, a 1996 Westminster graduate who occasionally performs on the trumpet with the group.
 "The program includes a wide variety of Jazz music styles including: the music of Benny Carter 'Rompin' and the Reno,' which is very characteristic of the Count Basie style of big band performance," Greig said.  "We will also perform two classics recorded by the Stan Kenton Orchestra, Gene Rolands arrangement of Misty and Gerry Mulligan's arrangement of 'Dancing in the Dark.'    There will also be a solo vocalist performing a newer arrangement of a Sammy Fain and Irving Kahal classic, 'I'll Be Seeing You.'  Other new settings of classic songs are Mike Tomaro's arrangement of the Miles Davis standard, 'Milestones,' and Antonia Carlos Jobim's 'One Note "Samba.'"
 The event is free and open to the public.  For more information, contact Greig at (724) 946-7279 or e-mail greigrk@westminster.edu.
---
Katherine Duncan, a senior music and English major at Westminster College, recently gave her senior recital.
Her program included Mozart's "Voi che sapete," Saint-Saens' "Mon Coeru S'ouvre a ta toix," Mahler's "Leider eines fahrenden Gessellen," Lambert's "Four Poesm by Li-Po," Moore's "Sexy Lady," and Ellington's "Don't Get Around Much Anymore."  She also sang a duet, "Sous le dome epais," with Rachel Varine, a senior music performance major from Vandergirft.  Duncan's recital was accompanied by pianist Jeff Wachter.
Duncan, a daughter of Elizabeth and James Duncan, Indiana, is a graduate of Indiana Area High School.  While at Westminster, she has been a member of the Westminster Concert Choir and the Chamber Singers.  She performed in the Westminster Opera Workshops, "The Magic Flute" and "Hansel and Gretel."  She has also performed in the opening of Bob Newhart's Celebrity Series performance and was a featured vocalist with the Westminster College Jazz Ensemble and the Faculty Jazz Quartet. 
Contact the Westminster College Department of Music at (724) 946-7270 for more information.
---
Displaying 4471-4480 of 5742 total records