History Professor Participated in Conference in Scotland
Posted on Thursday, May 10, 2012
Dr. Timothy Cuff, Westminster College associate professor of history, chaired a panel at the European Social Science History conference April 11-14 in Glasgow, Scotland.
Each paper in "The Founders and Survivors Project" panel described newly-developed strategies to document the life histories of men and women transported from England to Van Diemen's Land (Tasmania) as convict labor during the 19th century.  The results of some of this preliminary work were also presented.
The biennial conference brought together European geographers, demographers, political scientists, and economists working within a historical context.
Cuff, a Westminster College graduate who joined the faculty in 2000, earned a master's degree from Bowling Green State University and master's degree and Ph.D. from the University of Pittsburgh.
Contact Cuff at (724) 946-6152 or email for additional information.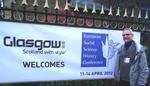 ---
More Stories