Mathematics and Computer Science Department Hosted Alumni Speakers
Posted on Friday, April 27, 2012
Westminster College's Department of Mathematics and Computer Science hosted alumni speakers Bradley Patton and Aaron Zavora for a job panel colloquium April 18.
Patton and Zavora, who were dual mathematics and computer science majors at Westminster, described their job-related experiences since graduation and answered questions related to career opportunities.
Patton, a 2005 graduate, is currently chief technical officer for Pittsburgh-based electronic game company Electric Owl Studios.
Zavora, who graduated last spring, is a data warehouse developer for Coventry Health Care, a national corporation.
Contact Dr. David Shaffer, associate professor of computer science, at (724) 946-7292 or email for additional information.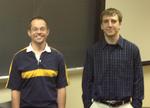 ---
More Stories