Orchestra Director Presented at National Conference
Posted on Thursday, March 29, 2012
Dr. Melinda Crawford Perttu, Westminster College assistant professor of music, presented at the American String Teachers Association national conference March 22-24 in Atlanta.
Crawford Perttu presented a research poster, "A Manual for the Learning of Traditional Scottish Fiddling: Design, Development, and Effectiveness," and two educational sessions: "Deep Musicianship: How Fiddle Traditions Foster the Skills and Attitudes of the Complete Musician" with Swedish fiddler Andrea Hoag and Cajun fiddler David Greely; and "Scottish Ornaments: How to Make Scottish Airs Sound Scottish."
Crawford Perttu, who serves as director of the Westminster College Symphony Orchestra, joined the faculty full time in 2011.  She earned an undergraduate degree from Duquesne University and master's degree and Ph.D. from Ohio State University.  She has studied Gaelic, fiddling, and fiddle pedagogy at Sabhal Mòr Ostaig in Scotland.
Contact Crawford Perttu at (724) 946-7271 or email for additional information.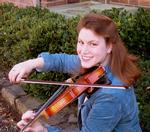 ---
More Stories