Lindsay Painter, senior public relations major at Westminster College, spearheaded the Fallen Soldier Memorial located in Pittsburgh's Federal Building.
"The Fallen Soldier Memorial honors 46 soldiers from Western Pennsylvania killed in Iraq and Afghanistan," Painter said. "I had to use the 'Report of Casualty' military orders to contact the families and get the biographical information for the scrapbook that's on display with the guest book in the lobby. Talking to the families was the most difficult part of the job."
Painter served a summer internship for the regional Veterans Administration in Pittsburgh.
"I thought I'd be a shadow, but I was asked to jump right in and get started," Painter said. "I had no budget, so I asked for donations. One of the hardest things to find was the M-16 rifle. The Etna American Legion bought a replica for the memorial and donated it. The Pittsburgh Trophy Company donated two large plaques inscribed with the name and branch of service of each person."
The dedication was held Aug. 18 in the Concourse Room of the Pennsylvanian, an old rail road station in downtown Pittsburgh. Painter had a special reason for wanting to be involved in this project.
"I lost a friend, Josh Henry, in September of 2004," Painter said. "He was one of the soldiers honored, and he was the reason it meant so much for me to do this. Josh and I went to high school together in Apollo. He was only 21 when he died. His family came to the dedication ceremony."
Ninety invitations were sent to family members to attend the dedication ceremony and more than 200 relatives and friends attended the service.
The simple memorial features an M-16 rifle with a helmet balanced on top of it and a pair of combat boots sitting beneath it in front of a flag with the words "Lest they be forgotten."
"I really need to thank everyone who donated to this cause, including the owner of the Pennsylvanian, the Jenny Lee Bakery and Opening Night Catering Service," Painter continued. "But I couldn't have done this project without the foundation received at Westminster. The Public Relations Department prepared me with people skills and public relations writing."
Painter is a daughter of Richard and Marcie Painter, Apollo, and a graduate of Apollo-Ridge High School.
Contact Painter at paintelm@westminster.edu for more information.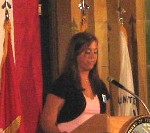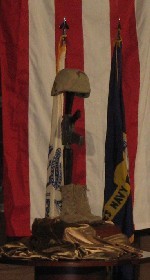 ---
Westminster College Director of Choral Activities Dr. Robin Lind will lead a group of junior high school students at the PMEA District 1 West Junior High Chorus festival Friday-Saturday, April 28-29, hosted by North Hills Junior High School chorus teacher and 2000 Westminster graduate Shaun Cloonan.
Over 50 area schools will be represented by 180 students in grades seven through nine during this two-day event, which culminates in a public performance Saturday, April 29 at 2 p.m. in the NHJHS Auditorium, 55 Rochester Road.
Concert selections include: two spirituals, "This is My Song!" and " Shine on Me;" a Manhattan Transfer favorite "Tuxedo Junction;" an arrangement of Gustav Holst's "Homeland" (from The Planets); a South African selection "Gabi, Gabi;" an arrangement by Rene Clausen of "O My Luve's Like a Red Red Rose" with violin and cello; and David Brunner's arrangement of the "Jubilate Deo" text, which includes guest brass players from the Westminster Music Department.
This is not the first collaboration between Lind and Cloonan. The Westminster Men's Chorus, under Lind's direction, participates annually in the American Choral Directors Association of Pennsylvania's "Mucho Macho Music," festival for young men with changing voices, held in November at North Hills Junior High School, where Cloonan is a chorus teacher. In addition, the two have collaborated on a workshop presented at the 2005 Summer Conference of ACDA-PA, and most recently, Cloonan and former music adjunct faculty member Lisa Jaworowski (Santillan) co-presented to a group of upper-class music education students at Westminster, discussing "real world" issues in the music teaching profession.
Contact Lind at (724) 946-7278 or e-mail lindra@westminster.edu, or Cloonan at (412) 318-1000, ext. 5225 or e-mail cloonans@nhsd.net for more information.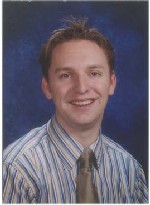 ---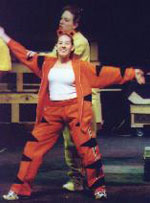 "Winnie-the-Pooh Christmas Tale" is coming to Westminster College Saturday, Dec. 1, at 11 a.m. and 8 p.m. at Beeghly Theater.
---
The 34th annual Pennsylvania Music Educators Association District V Honors Chorus will perform at Westminster College Saturday, Nov. 18, at 2:30 p.m. in Orr Auditorium.
---
Westminster College's John and Elizabeth Drinko Center for Excellence in Teaching and Learning
will host a four-day academy for area elementary and high school teachers, "Teaching the 20th Century,"
June 24-27
in
Thompson-Clark Hall.
The Academy features workshops in history, literature, and biology.  Each day begins at 8:30 a.m. with refreshments and 9 a.m. meetings with professors in the chosen field.  After lunch the afternoon sessions, which last until 2 p.m., meet in small seminar groups with teachers applying the material presented by professors earlier.
---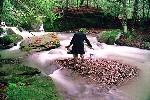 November's guest gallery exhibitor, Shawn Catterson, will demonstrate lighting techniques for taking better digital photographs Sunday, Nov. 5, at 6 p.m. in room 205 Thompson-Clark Hall.
---
The Westminster College Science in Motion Program at Westminster College is sponsoring workshops for teachers in biology, chemistry, and physics June 12-14 from 8 a.m.-3:30 p.m.
---
The Corporation for National and Community Service named Westminster College to the President's Higher Education Community Service Honor Roll for exemplary service efforts and service to disadvantaged youth.
---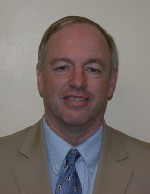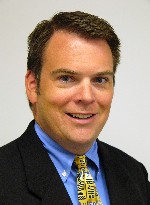 The Westminster College Board of Trustees added 10 members in its Class of 2012, including two first-time trustees.
---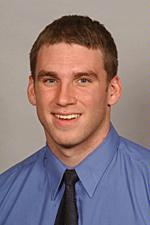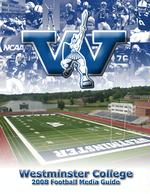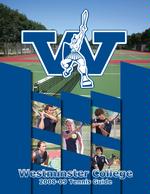 Two Westminster College sports publications have earned national acclaim by the College Sports Information Directors of America (CoSIDA). Westminster's football and men's and women's tennis guides earned "Best Cover" honors in the 2008-09 CoSIDA Publication Contest.
---
Displaying 5311-5320 of 5326 total records