Requirements for Music as a Second Major (Bachelor of Arts OR Bachelor of Science)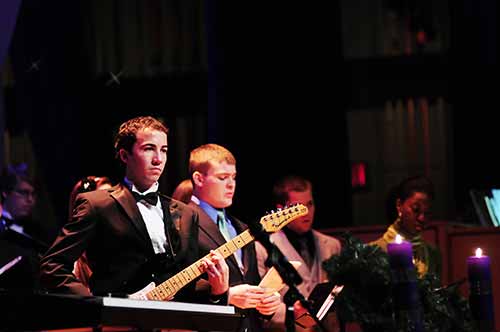 Music Courses:
MUS 121 Music Theory 1
MUS 121P Music Theory 1 Practicum
MUS 122 Music Theory 2
MUS 122P Music Theory 2 Practicum
MUS 123 Music Theory 3
MUS 123P Music Theory 3 Practicum
MUS 141 History of Western Music to 1750
MUS 142 History of Western Music from 1750
MUS 600 Music Colloquium
MUS 600M Master Class, lab for private lessons
MUS 601 Capstone Recital OR MUS 602 Capstone Lecture Recital
8 semester hours private lessons (primary instrument or voice)
8 semester hours of large ensembles
2 semester hours of secondary ensembles (MUS 402 Instrumental Jazz Ensemble, MUS 403 Flute Choir, MUS 404 Woodwind Ensemble, MUS 405 Brass Ensemble, MUS 406 Percussion Ensemble, MUS 407 Wind Ensemble, MUS 422 Chamber Singers, and/or MUS 442 String Chamber Ensemble)
Each student is required to pass a series of examinations on his/her primary instrument, as follows:
8 Juries with one at the end of each semester's private lessons
1 Sophomore Hearing with performance and portfolio review during second semester of sophomore year
2 Recital Hearings that are two weeks prior to the junior and the capstone recitals
A student choosing a second major in music while majoring in early childhood education must pass the piano proficiency exam. Piano Proficiency Examination Levels 1-3 must be completed by the end of the sophomore year, and Levels 4-10 must be completed by the end of the junior year.
What can you do with a Music degree?
Imagine yourself a professional composer, music educator, performer in a symphony orchestra or opera company, college professor, symphony manager, or sales manager for a recording company.