Requirements for the Music Education Major (Bachelor of Music)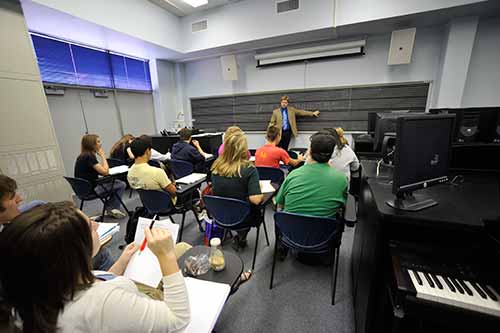 Why Study Music Education at Westminster?
Our students get jobs: over 95% of our Music Education Majors who are pursuing employment as music teachers are hired.

1 hour of private lessons per week included in the cost of tuition

Extensive courses in pedagogy: two courses in Woodwind Pedagogy and two courses in String Pedagogy

Teaching field experience for students in all four years of study.
The music education major fulfills certification requirements for those preparing to teach music in the public schools (K-12).
Music and Required Supporting Courses:
MUS 121 Music Theory 1
MUS 121L Music Theory 1 Aural Skills Lab
MUS 122 Music Theory 2
MUS 122L Music Theory 2 Aural Skills Lab
MUS 123 Music Theory 3
MUS 123L Music Theory 3 Aural Skills Lab
MUS 124 Music Theory 4
MUS 124L Music Theory 4 Aural Skills Lab
MUS 126 Orchestration
MUS 141 History of Western Music to 1750
MUS 142 History of Western Music from 1750
MUS 182 General Music Methods
MUS 183 Choral Methods
MUS 184 Instrumental Methods
MUS 195 Student Teaching: Elementary
MUS 196 Student Teaching: Secondary
MUS 200 Woodwind Pedagogy I
MUS 201 Woodwind Pedagogy II
MUS 202 Brass Pedagogy
MUS 203 Percussion Pedagogy
MUS 204 String Pedagogy I
MUS 205 String Pedagogy II
MUS 206 Vocal Pedagogy
MUS 271 Basic Conducting
MUS 272 Choral Conducting
MUS 273 Instrumental Conducting
MUS 601 US 601 Capstone Recital OR MUS 602 Capstone Lecture Recital
EDU 231 Educational Psychology
ELL 206 English Language Learners
SED 201 Foundations of Special Education
MTH 110 Mathematical Perspectives AND MTH 124 Mathematical Perspectives II (OR 6 hours of other college math courses)
7 semester hours of private lesson in primary instrument or voice
7 semester hours of large ensembles
2 semester hours of an ensemble not listed as a large ensemble (ex. MUS 402 Instrumental Jazz Ensemble, MUS 403 Flute Choir, MUS 404 Woodwind Ensemble, MUS 405 Brass Ensemble, MUS 406 Percussion Ensemble, MUS 407 Wind Ensemble, MUS 422 Chamber Singers, or MUS 442 String Chamber Ensemble)
And three of the following music courses:
MUS 207 Latin and Italian Diction
MUS 208 German Diction
MUS 209 French Diction
MUS 212 Woodwind Instrument Repair
MUS 213 Brass Instrument Repair
MUS 367 Jazz Improvisation
*Note: Voice concentration must take two of the following: MUS 207, 208, and 209; Instrumental concentration must take a minimum of two of the following: MUS 212, 213, 367, or 379.
And one of the following music literature courses:
MUS 164 Choral Literature
MUS 167 Symphonic Literature
MUS 168 Band Literature
What can you do with a Music Education degree?
Imagine yourself a music educator, performer in a symphony orchestra or opera company, college professor, symphony manager, or sales manager for a recording company.