Photojournalist to Speak at Westminster College
Posted on Tuesday, October 25, 2005
Kirsten Elstner, photojournalist and freelance photographer for the New York Times and the International Red Cross, will speak Friday, Nov. 11, at 3:15 p.m. in Phillips Lecture Hall located in the Hoyt Science Resources Center.
Elstner's career has taken her to remote locations such as Afghanistan, Nepal, and Bangladesh, and her own backyard of Annapolis, Md., where she is the founder and director of VisionWorkshops, a non-profit organization dedicated to inspiring inner-city children through photography.
Elstner will show some of her work with young people. She will also describe her experiences in Afghanistan showing work from her 1992 visit to Kabul, relating her experiences to Khalid Hosseini's "The Kite Runner." Elstner will close her talk leading a discussion on the role that documentary photography plays in perceptions of cultures.
This event is free and open to the public and is supported by Westminster's First-Year Program. Contact Dr. Sherri Pataki, visiting assistant professor of psychology at Westminster College, at (724) 946-7361 or e-mail patakisp@westminster.edu for more information.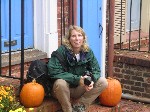 ---
More Stories