Alex Scull Joins Westminster College as Major Gifts Officer
Posted on Friday, October 4, 2013
NEW WILMINGTON, Pa. - Alex Scull has joined Westminster College as a major gifts officer to support the ongoing Ever Higher: The Campaign for Westminster College.
The major gifts officer is responsible for soliciting funds from prospective donors through communications and visits with prospects.
Scull comes to the College after serving as assistant to the president for leadership gifts and as an advancement officer at Marian University in Wisconsin. He had additional experience as an intern in the Office of Institutional Advancement at Westminster as a CASE ASAP Fellow, a program that provides on-the-job training and skills in the areas of advancement and philanthropy. He also had experience as a legislative assistant for Pennsylvania State Rep. Matt Gabler (R-Clearfield/Elk).
Scull earned a bachelor's degree in political science with a minor in sociology from Westminster in May 2012. Scull resides in New Wilmington.
Contact Scull at 724-946-7991 or email for more information.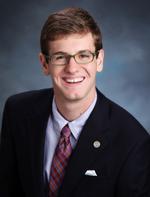 ---
More Stories