Westminster College Celebrity Series to Present The Tenors October 9
Posted on Wednesday, September 11, 2013
NEW WILMINGTON, Pa. - The Westminster College Celebrity Series will present The Tenors Wednesday, Oct. 9, at 7:30 p.m. in Orr Auditorium.
Since their inception five years ago, The Tenors (also known as the Canadian Tenors) have been thrilling audiences around the world with their powerful voices and memorable melodies. Their blend of classical music and contemporary pop has garnered them international success.
In their short career, they have performed on "The Oprah Winfrey Show" with Celine Dion; at the live broadcast of the 2011 Emmy Awards in Los Angeles; at the opening ceremonies of Vancouver's 2010 Olympics; and for the NBA, MLB, and NHL All-Star Games. They have also shared a private tea with Her Majesty The Queen and performed during her Diamond Jubilee.
They have shared the stage with Sarah McLachlan, Neil Young, Paul Anka, Justin Bieber, Paul McCartney, Brian McKnight, David Foster, and Natalie Cole among others, in venues from Bangkok to London, and New York to Israel.
The group's latest tour, "Lead With Your Heart," continues to take them to venues around the world - from South Africa to Canada and across the United States. They have been hailed as musical ambassadors and Canada's national treasure.
The show is sponsored by Giant Eagle.
Tickets, starting at $35, are available from the Celebrity Series box office at 724-946-7354.  Visit www.westminster.edu/celebrity for additional information.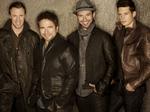 ---
More Stories