Westminster College's Drinko Center to Host Wind Energy Workshop and Installation
Posted on Thursday, September 27, 2012
NEW WILMINGTON, Pa. - Westminster College's Drinko Center for Experiential Learning and the Sustainability in Motion Program will host a "Wind Energy Workshop and Installation" Oct. 6 from 9 a.m. to 5 p.m. at the Field Station. The event is open to the public.  Act 48 hours are available for teachers.
Participants will learn about wind energy and help install Westminster College's first wind turbine. Dr. Douglas Armstead, assistant professor of physics, and Dr. Helen Boylan, associate professor of chemistry, will lead the workshop. Participation cost is $15, $5 for students. Breakfast and lunch are included.
The Drinko Center for Experiential Learning was created to enrich undergraduate education at Westminster through advancing world-class teaching as well as by participating in collaborations that address community and regional needs including strengthening K-12 education. 
Sustainability in Motion is an outreach program that was founded at Westminster College in 2010.  This program educates students of all ages about the benefits of solar energy and other sustainable technologies.  Westminster College students and faculty working with this program have created lesson plans and other activities for students of all ages to learn more about sustainability and alternative energy.  Visit www.westminster.edu/sustain for additional information about the program.
Contact Dr. Patrick Krantz, director of the Drinko Center, at (724) 946-6097 or email to RSVP for the workshop.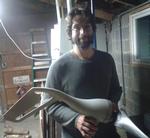 ---
More Stories