Westminster College McGill Library to Offer Children's Story Time
Posted on Wednesday, September 12, 2012
NEW WILMINGTON, Pa. - The Westminster College McGill Library will be offering a new children's story time program beginning Monday, Sept. 17. The event will be held in the Williamson Community Room of the library every Monday at 11:15 a.m. and Tuesday at 7 p.m.  
Story Time @ Westminster College is being offered through the library with the help of Beth Brooks, retired Westminster employee and former teacher, and the Education Department. Preschool and elementary students from New Wilmington and the surrounding area - and all fans of children's literature - are invited to join Brooks as she brings familiar old stories to life and introduces new favorites.
Contact Erin Smith, director of library services, at (724) 946-7327 or email for more information.
Westminster's McGill Library is open to the public and houses material on the fine arts, humanities, mathematics, natural sciences, social sciences and technology. It also features a community section with a children's library.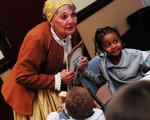 ---
More Stories