Westminster College Students Golf Inside Library
Posted on Friday, September 7, 2012
NEW WILMINGTON, Pa. - Westminster College's McGill Library was transformed into a miniature golf course on Aug. 30 to help new students become familiar with the building and services offered.
"Our students have told us that the library can be an intimidating place because it is so big and there are so many items," said Erin Smith, director of library services and associate professor. "So Jamie Kohler, one of our librarians, suggested setting up a mini golf course throughout the library as a way for students to get acquainted with the building and the staff in a low-pressure, non-threatening way. When the time comes for them to do their first research assignment, they will know where to come for help."
It is estimated that nearly 75 new students attended the indoor golf "outing."  The golf course consisted of four holes - each hole on a different floor of the library. Each hole also had a trivia question about a library collection or service. The Fresh Start Leaders, Student Government Association, and Campus Programming Committee provided a team of upper class students to staff the golf course and help the first-year students answer the trivia questions. Students recorded their answers - along with their golf scores - on a scorecard that could be returned at the end of the course to be entered in a prize drawing.
The three winners were Sara Sieczkowski, Panayiotis Constantine, and Nolan Randall. They won amazon gift cards and books on a topic of their choice will be added to the McGill Library collection.
"It was the loudest event the library has ever had," joked Smith. "I hope it was a nice, welcoming introduction that made the students more comfortable using all the resources the library has to offer. Our primary goal was that students would come to the library and have fun. We didn't want it to be a required event because there's no such thing as mandated fun. But we were also hoping that while they were playing golf in the library, they would learn enough about our resources to walk away from the event with plans of coming back to visit again soon."
Westminster's McGill Library is open to the public and houses material on the fine arts, humanities, mathematics, natural sciences, social sciences and technology. It also features a community section with a children's library.
Contact Smith at (724) 946-7327 or email for more information.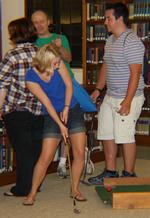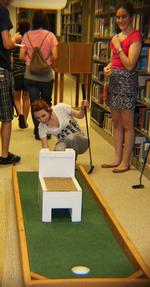 ---
More Stories