Westminster College Assistant Professor Co-authors Article on Green Chemistry
Posted on Thursday, July 26, 2012
NEW WILMINGTON, Pa. - Dr. Sarah Kennedy, Westminster College assistant professor of chemistry, co-authored an article in the Water Conditioning and Purification Magazine.
"Going Green: Basics and Benefits of Green Chemistry" outlined the principles of green chemistry and how companies have used green chemistry to their benefit. The article was co-authored with Dr. Henry Nowicki, president and senior scientist for Professional Analytical and Consulting Services (PACS).
View the article here.
Kennedy, a Westminster graduate who joined the faculty in 2009, earned a Ph.D. from the University of North Carolina at Chapel Hill.
Contact Kennedy at (724) 946-6289 or email for more information.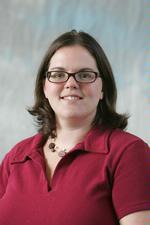 ---
More Stories