Assistant Professor Attends Faculty Seminar in Italy
Posted on Monday, July 23, 2012
NEW WILMINGTON, Pa. - Dr. Michael Aleprete, Westminster College assistant professor of political science, attended the seminar "Food from a Glocal Perspective: Italy, the Mediterranean and the Globe" in Italy as part of a CIEE International Faculty Development Seminar.
CIEE is a company that offers study abroad opportunities for college students, faculty and administration. The seminar that Aleprete attended focused on food and its impact on culture, economics and politics and took place June 5-15. The seminar was hosted in Pollenzo by the University of Gastronomic Sciences and in Naples by the Orientale University of Naples.
Aleprete, who joined the faculty in 2007, earned an undergraduate degree from Duquesne University and master's degree and Ph.D. from the University of Pittsburgh.
Contact Aleprete at (724) 946-7254 or email for additional information.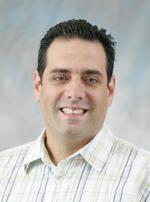 ---
More Stories