Recent Graduate Received Award from Chemical Society
Posted on Friday, June 1, 2012
Ashley Blystone, a Westminster College May graduate in chemistry, received a cash award from the Society of Analytical Chemists of Pittsburgh at its annual awards banquet May 16 at Duquesne University.
The annual award is given to an outstanding senior chemistry major based on accomplishments in undergraduate chemistry, chemistry-related projects, and a grade point average of 3.0 or higher.
In addition to the individual award, Westminster received a grant to purchase a book in Blystone's honor for the library.
Blystone was accompanied at the banquet by her mother, Jessica Blystone, and Westminster chemistry mentors Dr. Helen Boylan, associate professor, and Dr. Sarah Kennedy, assistant professor.
Blystone is a daughter of Brian and Jessica Blystone of Ford City and a graduate of Ford City High School.
Contact Kennedy at (724) 946-7294 or email for additional information.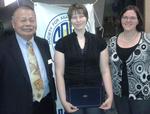 ---
More Stories