College Hosted Annual Model United Nations Conference for High School Students
Posted on Friday, April 27, 2012
Westminster College hosted more than 250 students from 20 area high schools, the largest delegation ever at Westminster, for the fourth annual Model United Nations Conference April 23.
Students participated in simulations of four United Nations committees: General Assembly First Committee, General Assembly Third Committee, Economic and Social Council, and the Security Council.  They discussed a variety of issues that included nuclear proliferation, labor rights, the delivery of humanitarian assistance in post-conflict zones, and the on-going crisis in Syria.
This year's conference included a simulation of the historic 1945 San Francisco Conference, where the original 50 members of the United Nations agreed to the final draft of the UN charter.  The students had an opportunity to "re-write" the charter, debating the composition of the Security Council and the incorporation of human rights language into the charter.
Nearly 30 members of Westminster's Model UN team hosted the conference and staffed the committees.  Katelyn Moga served as Secretary General with committee chairs held by: James Beaudry, Economic and Social Council; Jeremy Hoover, Security Council; Jared Palonis, General Assembly Third Committee; Alex Scull, San Francisco Conference; and Shane Swigart, General Assembly First Committee.
Click here to see photos from the conference.
The conference was supported by Global Solutions Education Fund-Pittsburgh and Westminster's Model UN student organization, Drinko Center for Experiential Learning, and Department of Political Science.
Contact Dr. Michael Aleprete, assistant professor of political science, at (724) 946-7254 or email for additional information.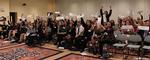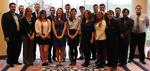 ---
More Stories