Art Studio to Host Open House May 1
Posted on Tuesday, April 24, 2012
Westminster College's Department of Communication Studies, Theatre and Art will host an open house Tuesday, May 1, from 4:30-6 p.m. at the Russell Hall Art Studios.  The event is free and open to the public.
The studios, formerly housed in Patterson Hall, were relocated prior to the Patterson renovation project that is nearing completion.
The new areas, located on the ground floor of Russell Hall, feature larger drawing and 2D studios; better display areas for student work; better lighting for artwork within studios; new air filtering units for the 3D studio; and a separate kiln room.
"We welcome visitors to see our new space and check out what our students have been doing in the art courses this semester," said Summer Zickefoose, visiting assistant professor of art.
Contact Zickefoose at (724) 946-7267 or email for additional information.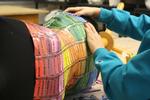 ---
More Stories