Accounting and Business Administration Major Wins 2012 Edward Entrepreneurship Scholarship
Posted on Monday, April 23, 2012
Zachary Cramer, a Westminster College senior accounting and  business administration major, won the 2012 David W. Edward Entrepreneurship Scholarship competition.  The award includes a $3,500 academic scholarship.
The competition, conducted by Westminster's Department of Economics and Business and supported by funding from the Edward Trust in Youngstown, Ohio, requires students to prepare and present a business plan depicting the creation of a new or substantially improved business, product, service, or some combination of the three.  The competition culminated April 3 with a presentation of his business plans to a panel of judges.
Cramer's winning plan detailed the start-up of TL - The Lounge, a restaurant/lounge in downtown New Wilmington.  The facility would fill a niche market not currently provided in town: a restaurant with a variety of foods priced to attract the college-student budget as well as many local residents with evening entertainment and late-night service.
The plan outlined a well-researched business analysis, as well as a realistic location and marketing plan capable of creating and supporting a local business enterprise.  A set of comprehensive financial projections summarized the expectations from both a start-up and a future growth perspective, according to the judges.
Cramer is a son of Steven Cramer of Luthersburg and a graduate of DuBois Area High School.
Contact Dr. Gail Miller, Westminster professor of business, at (724) 946-7168 (email) or David Smith, Westminster associate professor of accounting, at (724) 946-7161 (email) for additional information.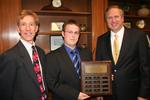 ---
More Stories