College to Host Guest Artist for Workshop and Public Lecture
Posted on Tuesday, April 10, 2012
Artist John Peña will present a student workshop and public lecture at Westminster College Tuesday-Thursday, April 17-19.
Peña will give a workshop to students in the "Environmental Studio" cluster course and the "Basic Studio Art: 3D" course.
He will present a lecture on his artwork Wednesday, April 18, from 6-7 p.m. in the McKelvey Campus Center's Witherspoon Maple room.  The lecture is free and open to the public.
Peña is sponsored by Westminster's Department of Communication Studies, Theatre and Art.
Contact Summer Zickefoose, Westminster visiting assistant professor of art, at (724) 946-7267 or email for additional information.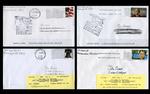 ---
More Stories