Student Alumni Association Representatives Participated in District Conference
Posted on Monday, April 9, 2012
Two representatives of Westminster College's Student Alumni Association (SAA) participated in the Council for the Advancement and Support of Education Affiliated Student Advancement Programs (CASE ASAP) District 2 conference March 2-3 at Indiana University of Pennsylvania.
Senior English major Chelsi Cannon presented a break-out session on Westminster's SAA-sponsored leadership dinner, "Inspiring Leaders."  Presidents of all student organizations and a rising leader from each are invited to dinner and a program that includes an alumni keynote speaker, Westminster President Dr. Richard Dorman, and members of the president's cabinet speaking on their views of leadership.
Cannon is a daughter of Jeff and Lynn LaMantia of Midland and a graduate of Western Beaver High School.
Junior public relations major Tawni Darby, Student Government Association president, also attended.  Darby is a daughter of Walter and Lori Darby of Hermitage and a graduate of Lincoln Park Performing Arts Center.
The students were accompanied by Cindy Dafler, SAA adviser and assistant director of alumni relations.
Contact Dafler at (724) 946-7373 or email for additional information.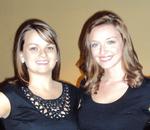 ---
More Stories