Professor Published in French Journal
Posted on Thursday, April 5, 2012
Dr. Leslie Kealhofer, Westminster College visiting assistant professor of French, is the author of "The Voices of North African Women in France in Short Films: The Role of Objects" that was published in the French journal Migrance.
The issue focused on representations of North Africans in cinematic productions in France.  Kealhofer's article examined how the experiences of migrant women from North Africa in France are represented in a selection of short films produced in France, especially the key role that objects such as letters and food play in the narratives.
Kealhofer, who joined the Westminster faculty in 2011, earned an undergraduate degree from the University of Notre Dame and master's degree and Ph.D. from Florida State University.
Contact Kealhofer at (724) 946-6260 or email for additional information.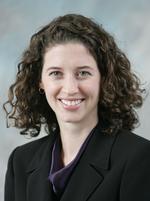 ---
More Stories