Westminster College Welcomes November's Gallery Exhibitor
Posted on Friday, November 3, 2006
November's guest gallery exhibitor, Shawn Catterson, will demonstrate lighting techniques for taking better digital photographs Sunday, Nov. 5, at 6 p.m. in room 205 Thompson-Clark Hall.
"There is a saying that the eyes are a window to a person's soul," writes Catterson. "The eyes see, the brain computes, and, if it is meaningful enough, the soul absorbs. Human emotion is the key element in my photography. My goals are to evoke a true emotional response from the viewer by utilizing light, atmosphere, space, location, props, and most importantly, human presence within the content of my photos."
This event is free and open to the public; however, there is limited seating and reservations should be made. Contact Peggy Cox, director of Westminster's art gallery and professor of art, at (724) 946-7266 or e-mail pcox@westminster.edu for more information.
Westminster's gallery is open to the public Monday-Saturday, 9 a.m.-9 p.m., and Sunday, noon-9 p.m.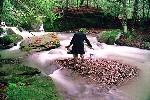 ---
More Stories