Westminster Coach Wins First Greek Service Award
Posted on Sunday, May 7, 2000
Scott Renninger Jr.,
associate professor of physical education, chair of the department, head men's tennis coach, and assistant football coach, recently received the first annual Greek Service Award at Westminster College.
The award was given and sponsored by the Greek Week committee, which is composed of representatives from each fraternity and sorority.
"Scott really deserved this award.  He puts in countless hours working with the fraternities, keeping them on the right path," said John Lechner, assistant dean of Student Affairs and public safety.  "He has good rapport with student athletes and takes the pressure off my job."
"We chose Coach Renninger for his tireless amount of hard work and service to the Greek community," said Nate Tengowski, a senior history major from Jefferson Hills and member of the Sigma Nu fraternity at Westminster.  "He takes time out of his day to be IFC advisor, but that's only one reason we chose him.  His caring attitude and personal knowledge of the students is the real reason we selected him."
"I remember Scott Renninger's extraordinary and enduring interest in helping the Greek system at Westminster," said Robert Thomas, former vice president for student affairs at Westminster.  "His concern and willingness to assist and give of his time never wavered.  He was always a big help to me and more importantly, to the students who were Greeks."
For more information, contact Lechner at (724) 946-7128 or e-mail lechnejn@westminster.edu.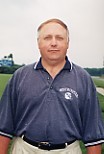 ---
More Stories