Global Gift Market Scheduled for Dec. 1
Posted on Thursday, November 18, 2010
Westminster College's Young Presbyterian Scholars Program (YPS) will sponsor its eighth annual Global Gift Market Wednesday, Dec. 1, from 10 a.m.-7 p.m. in the Witherspoon Maple Room of the McKelvey Campus Center. All are welcome to attend.
This year's theme, "Gifts That Change...," makes shopping with a conscience possible. Items to fit every budget will be available, ranging from $1 for 40 doses of medicine to $6 to feed a Kenyan school child for a month to $11 nets to protect families in India from malaria to $38 to send a student to school in Myanmar. A wide range of gift amounts are available.
Shoppers can purchase gifts of help and hope from 45 organizations that represent medical, agricultural, educational, and humanitarian help for the world's poor through Alternative Gifts International's worldwide organizations.
Westminster's Habitat for Humanity and First Book student groups, Pittsburgh's Shoulder to Shoulder (Honduras), and local mission entrepreneur Adam Gould's "eduKenya" will provide a local connection.
Fair trade coffees will be available and Westminster alumna Wendy Farmerie will display a variety of items from her fair trade shop, The Silk Road, in New Wilmington.
Westminster's Student Government Association will collect new and partially used retail/restaurant gift cards to be re-gifted through the GiftCardGiver program. Donated cards will be recharged and given to those in need during the holidays.
Contact Carey Anne LaSor, YPS coordinator, at (724) 946-7365 or e-mail meyerca@westminster.edu for additional information.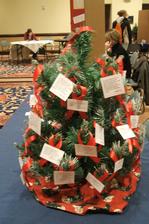 ---
More Stories