Professional Networking Symposium: Alumni Registration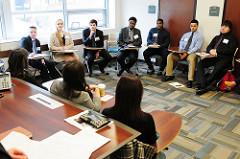 When:
Saturday, September 16, 2017
Where:
McKelvey Campus Center - 2nd level
Our annual networking event will incorporate all academic aspects of the college, with panels meeting a wide variety of students' needs.  For updates on panel topics and more detailed information please visit the official website for PNS: https://www.westminster.edu/PNS.
Alumni can use this registration form as their formal registration for the event.  We invite all alumni and friends to partake in the various sessions throughout the day and will reach out to you personally if we can incorporate your skill set as one of the official panelists.  
Spouses are welcomed to attend as they can contribute to the theme of networking with our students.  If so, please register for two and list their name in the guest name section.
**If you are a faculty or staff member, we ask that you use a separate registration. Visit www.westminster.edu/PNS and select the Faculty/Staff Registration button. 
For additional information, please contact Nicole Hunter at hunterna@westminster.edu or 7249467373.
Reservations due by Friday, September 8, 2017