Westminster instrumentalists will combine their talents to present "A Senior Celebration" featuring the Symphonic Band and Wind Ensemble Friday, May 5, at 7:30 p.m. in Orr Auditorium. The Jazz Ensemble will perform Saturday, May 6, at 7:30 p.m. in the Berlin Lounge located in the McKelvey Campus Center.
"The Senior Celebration" features the works of Gustav Holsts, Claude T. Smith, John Zdechik, Johann de Meij, Clifton Williams and more.
"This concert is always very special to me," said Dr. R Tad Greig, director of bands at Westminster College. "I am always so proud to see these very special seniors who I have had the privilege of working with over the past four years, while at the same time I realize that this is probably the last time that I will have the opportunity to make music with many of them. Their wonderful attitudes, outstanding work ethic, and amazing musical abilities have been the key to the growth and development of our Music Department."
"The Symphonic Band is comprised of music majors, minors and other students from majors all across the Westminster campus and performs the finest literature specifically for large ensembles," Greig said. "I have the opportunity to work with students from all over our campus, coming together to share their love of music."
Under the direction of Andrew Erb, who is also the trumpet instructor, the Jazz Ensemble will perform the classics from Stan Kenton, Mike Tomaro, and more.
"Come early, as the Jazz Ensemble quickly fills to capacity," Greig said. "Come and see what all the excitement is about."
Both concerts are free and open to the public, although a free-will donation will be taken to help defray the cost of the Wind Ensemble's performance tour of Spain in the fall.
Contact Greig at (724) 946-7279 or e-mail greigrt@westminster.edu for more information.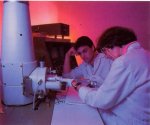 The Westminster College Biology Department will honor
Dr. Monika Becker
, professor of biology emerita, during a ceremony to dedicate the "Monika Becker Electron Microscopy Suite"
Thursday, May 16
, at
5 p.m.
in
Hoyt Science Resources Center.
"The suite houses the department's two electron microscopes: a Zeiss 109 transmission electron microscope, and a JEOL 35-CF scanning electron microscope," said Dr. Ann Throckmorton, associate professor of biology and chair of the department at Westminster College.  "These sophisticated instruments, unique for institutions the size of Westminster College, are used by students and faculty in their courses and research."
Displaying 661-670 of 5149 total records