Environmental Science Major Received Ferguson Scholarship
Posted on Thursday, May 17, 2012
Westminster College junior environmental science major Hilary Stenger received the Helen R. Ferguson Scholarship for excellence in environmental science.
The award was presented by the Bartramian Audubon Society at its monthly meeting May 14 at Jennings Environmental Education Center.
The scholarship is awarded to a student majoring in environmental science who has demonstrated excellence in the areas of environmental science and education.
"Hilary was chosen for this award for her outstanding academic record and engagement in environmental projects," said Dr. Helen Boylan, Westminster associate professor of chemistry and chair of environmental programs.  "We thank Helen Ferguson and the Bartramian Audubon Society for their generous support of Westminster College environmental science students."
Boylan attended the award presentation and introduced Stenger, who is a daughter of William and Michele Stenger of Mantua, Ohio, and a graduate of Crestwood High School.
Contact Boylan at (724) 946-6293 or email for additional information.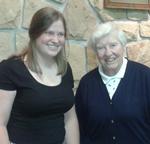 ---
More Stories