Westminster College continues its "Get Real!" life preparation series Thursday, Oct. 30, with "Investing for the Good Life: Intermediate Investing" presented by David Smith, Westminster assistant professor of accounting.
---
Sixteen Westminster College students were awarded master of education degrees at Commencement exercises May 16.
---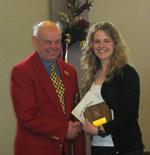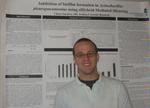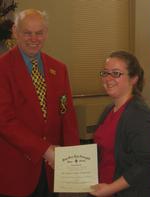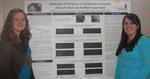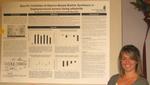 Seven Westminster College senior biology majors presented their capstone research projects at the annual Tri-Beta District 3 Biology Symposium March 20 at Gannon University.
---
Westminster College's Chapel Office and New Wilmington Ministerium will host a community Thanksgiving worship service featuring pastors from area churches Sunday, Nov. 21, at 7 p.m. in Wallace Memorial Chapel. All are welcome to attend.
---
Dr. Sandra Webster, Westminster College professor of psychology, will speak on "Juggling Metacognition" or "A Series of Unfortunate Research Events" at Faires Faculty Forum Wednesday, Sept. 14, at 11:40 a.m. in the Sebastian Mueller Theater of the McKelvey Campus Center.
---
Five seniors in Westminster College's Language in Motion program made presentations April 2-3 at the Wilmington Area Middle School that took more than 100 fifth-grade students on a virtual "Trip around the World."
---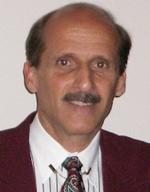 NEW WILMINGTON, Pa. - Peter Andino `77, Westminster College associate trustee and alumnus, spoke to Westminster students in November about his perspectives on international business and career and life choices. The presentation was hosted by Westminster's Department of Economics and Business.
---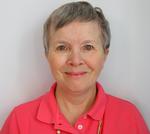 NEW WILMINGTON, Pa. - Roberta Winters, former board member of the Pennsylvania League of Women Voters (LWVPA), will present "Pipelines and Pooling: Expanding Natural Gas Issues" at 10:30 a.m. Saturday, Nov. 2 in Westminster College's Patterson Hall, room 207.  She will present again at 2 p.m. at the Mercer County - Penn State Extension, located at 463 North Perry Highway, Mercer. Both presentations are free and open to the public.
---
Westminster College students are invited to "do lunch" with Dan Vogler, Lawrence County Commissioner and 1981 Westminster graduate, Monday, Nov. 8, from noon-1 p.m. in the Orchard Street Cafe© located in the McKelvey Campus Center.
 Vogler has been site manager for the Lawrence County Career Link, director of governmental affairs for Penn Power, executive director of the United Way of Lawrence County, legislative aid for Senators Tom Andrews and Tim Shaffer, and a Neshannock Township Supervisor.
 Vogler has also been a member of numerous non-profit organization including: the Lawrence County Tourist Promotion Agency Board of Directors, Lark Enterprises Board of Directors, Jameson Care Center Board of Directors, Lawrence County Economic Development Corporation Board of Directors, Lawrence County Foundation Board of Directors, Pittsburgh Regional Alliance Board of Directors, Lawrence County Habitat for Humanity Board of Directors, Lawrence County Council of Governments Board of Directors, Southwestern Pennsylvania Growth Alliance Steering Committee, Regional Industrial Development Corporation of Southwest Pennsylvania Board of Directors, and the Lawrence County Planning Commission.
 "Any student interested in a career in government or lobbying or the lifestyle of an active member of our community would find talking to Dan worthwhile," said Kathleen Edmiston, assistant to the director of the Westminster Career Center. 
 Westminster College brings in special guests to have lunch and meet with students several times during the academic year.
 "Last year we had four "Let's Do Lunch Programs," Edmiston said. "Our students who attend these lunches really enjoy the informed atmosphere, which stimulates great questions and conversation.  They can talk informally over lunch with interesting people.  It's a chance to learn about their careers, educations, lifestyles and them."
 Last year's guess included Dr. Lynne McCrillis, a pediatrician from the Greenville Medical Center; Carmen Piccirillo, chief of the New Wilmington Police Department; Chuck Waugaman, Ph.D., senior mechanical engineer for General Electric Transportation Systems and Rail; and Brian Lohr, senior associate director of admissions at Notre Dame University and 1984 Westminster graduate.
 For more information, contact Edmiston at (724) 946-7339 or e-mail edmistkj@westminster.edu.
---
Dr. Bethany Hicok, assistant professor of English at Westminster College, will present "Stalking the Lesbian: Poets, Women's Collleges, and Literary Crossdressing" Thursday, Sept. 15, at 7 p.m. in Sebastian Mueller Theater located in the McKelvey Campus Center.
"This talk focuses on female friendships, lesbian identity and the increasing homophobia that marked the experience of the American women's college in the first half of the 20th century," Hicok said. "I look particularly at how three women poets Marianne Moore at Bryn Mawr, 1905-1909; Elizabeth Bishop at Vassar, 1930-1934; and Sylvia Plath at Smith 1950-1955 developed as writers within this environment and responded to its challenges."
Hicok will argue that their development reflects their struggle to position themselves in the literary marketplace in the context of increasing sexism and homophobia, both in the larger culture and within the women's college itself.
"This presentation is part of a book that I have just finished called 'Degrees of Freedom: American Women Poets and the Women's College, 1905-1955,'" Hicok said. "My book argues that the intellectual, social and cultural educations of Moore, Bishop, and Plath in the women's college were crucially important to their development as writers, both in terms of the subject matter they chose to write about, as well as how they wrote about these things."
This colloquium is the first in a series of events scheduled for the George Bleasby Colloquia, a series of literary events in honor of Dr. Bleasby, who chaired the Department of English at Westminster from 1954-75.
Hicok will also give this talk at Faculty Forum, Wednesday, Sept. 21, at 11:45 a.m. in the Sebastian Mueller Theater located in the McKelvey Campus Center.
Hicok, who has been with Westminster since 2001, earned her undergraduate degree from Russell Sage College, and her masters' and Ph.D. from the University of Rochester.
Contact Hicok at (724) 946-6349 or e-mail hicokbf@westminster.edu for more information.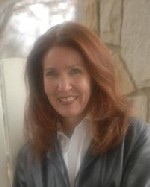 ---
Displaying 5181-5190 of 5323 total records